Between 2000 and 2020, flooding caused more than USD $23.8 million in Singapore. Since the prevalence of heavy rainfall events is increasing, it's critical to protect buildings and landscaped or hardscaped areas as much as possible. One of the ways architects can do this is by using drain gratings.
Suppose you are considering grating to protect your project from excess water. It's essential to fully understand everything involved in using and installing gratings and choosing the right supplier. Let's take a look at everything you need to know about drain gratings.
What Is Drain Grating?
One of the most ubiquitous types of drain grating is the storm drain. You've probably seen these and understand how they work. Other drain grates also exist, though they are designed differently to meet their specific purposes.
Drain grating allows water to be efficiently transported away from a surface, preventing pooling and damage to nearby structures. Furthermore, it also provides a covering for these transport channels.
Gratings can come in a variety of forms. It could be a series of parallel metal bars or a slab of stone-like material with slots. Either way, drain gratings serve a critical and niche purpose wherever they are used.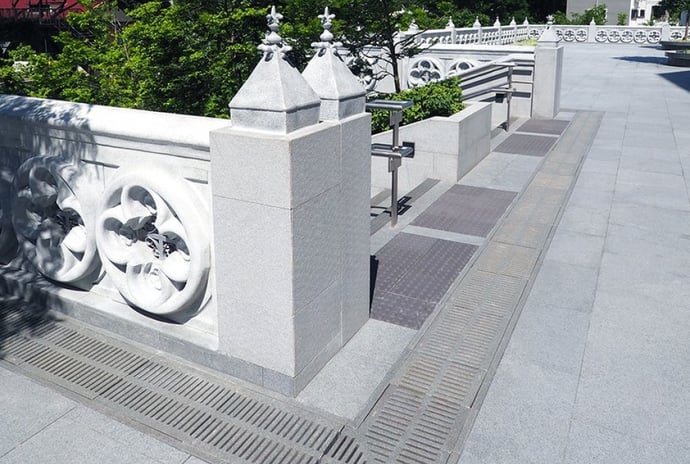 Trench drain grates can help keep pedestrian areas clear and dry.
How Do Drainage Grates Work?
Drainage grates sit over the top of a drain. Sometimes this drain is a channel, while other times a hole. Because of this, gratings can be built in a variety of shapes and sizes. Where they are used, and their type is based on their function.
Gratings create a physical barrier that prevents debris from entering the drain. In addition, this same barrier creates a surface that allows pedestrians and vehicles to travel across it.
Drain grates also have small holes that allow water and air to pass through the grate and into the drain. Once this happens, the water can continue down the drainage system to its exit point.
Types of Drain Grating
Trench grates are linear drain grates that cover a drainage channel. These channels can be placed in various areas, including pedestrian walkways and driveways. Because of this, trench gratings are often made and chosen with travellers in mind.
Pools have large amounts of water that splashes over the side of the pool. In order to keep the pool deck dry and safe, consider installing pool grates along the poolside.
Sump covers are smaller point drain grates. They are often utilized for their small size and adaptability to various locations.
Bathrooms and work areas are sometimes common indoor locations to take advantage of drainage grates. They can help keep floors and other surfaces clean and dry and make cleaning much more manageable.
Tree grates are not considered drain gratings because they do not cover a drainage area. However, they are a type of grating that is usually discussed similarly. This is because they are generally used in the same places, and the process of choosing one is similar.
Customizing and Manufacturing Your Gratings
When choosing Jonite gratings, the customization and manufacturing process are intertwined. Each order is manufactured according to the client's specifications, which enables our designers to create a design that fits your needs and reduces waste.
The design process begins with an in-depth conversation with our design team. You will discuss how Jonite gratings fit into your plans. The team will also check on material feasibility and cost efficiency.
Then, the design team will conceptualize your grating design. Depending on your timeline, we can either begin by modifying existing products or by creating a new design.
Our designers will then build a mock-up of your design. If needed, they will also run stress tests. You'll receive renderings to help you visualize the final designs. To make it easier to see if you need to make amendments to your desired design.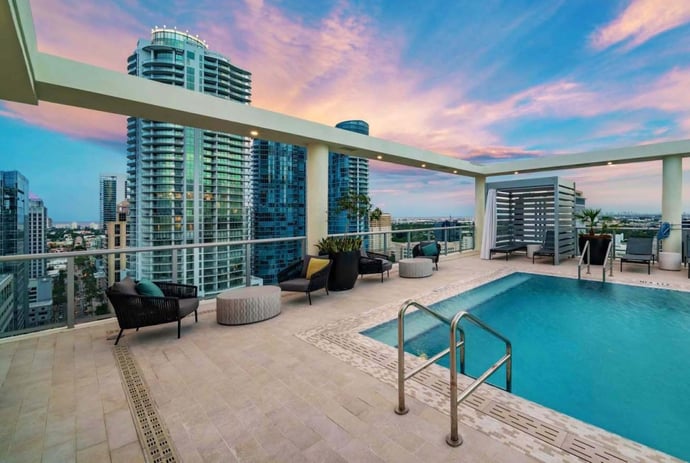 Jonite's pool gratings can be fully customized to meet your design needs.
Finally, before manufacturing begins, you'll sign off on the final design. Jonite uses just-in-time production to ensure we can deliver your final products within the timeline. All gratings are cleaned thoroughly before delivery, ensuring they are ready for installation.
Customization Options
While designing your gratings, you'll have a variety of options to choose from. While reinforced stone grates are highly durable, some need additional reinforcement. You can select the applicable load specifications for how your gratings will be used.
There are traditional ways to use each type of grating, but the exact way you use yours is up to you. Gratings can be used creatively, and we can alter design features to make that happen.
The size of each grate piece is also customizable. Jonite grates can be made in traditional or nontraditional shapes, including curves. We can use grate tiles and additional components to make your gratings fit your space.
You can also choose what kind of open areas will be included, including the patterns, helping to add a bit of aesthetic detail to your gratings. Colour and texture are customizable, and our designers will provide final samples for you to sign off. We can even colour-match your samples, with an up to 90% match.
Installing Gratings
The method of installing your gratings will depend on the grating type and where they are installed. There are some optional features and accessories that you may want to consider.
The way trench grates are installed varies significantly since they also vary worldwide. Light-duty (pedestrian-rated) grates are installed on level concrete. You could use L-steel angles if you want to add support and flatness.
Heavy-duty (vehicular-rated) grates can be installed with L-trimmers or inverted L-steel angles. This is because they must be installed on a 90-degree edge to maximize performance and ensure flat installation.
Certain Jonite trench grate models can fit directly into specifically manufactured drain channels.
Pool grates are installed in a similar way to light-duty trench grates. They are installed on level concrete or trimmers for additional flatness or aesthetics. Stud trimmers are especially useful for additional water drainage. These can help improve the flow rate in the drainage channels.
Small sump covers can be installed using Jonite's trimmer frame. Creating a 90-degree edge, flat surface, and aesthetic flair. Large sump covers may be formed using multiple panels. You can stabilize these with a trimmer frame or an L-steel metal frame.
Grate tiles are solid slabs of reinforced stone. They look like Jonite gratings without having the perforation. Grate tiles can be used to fill an odd end of a drain or if there is an irregular joint.
If you use light-duty grate tiles, your installer can cut the tiles on-site. However, if you use heavy-duty tiles, these will need to be created in the factory to your specific dimensions, done using templates or CAD drawings.
Choosing a Drain Grate Supplier
When choosing a drain grate supplier, it's important to consider several factors. To begin with, the company should produce high-quality gratings tailored to your needs.
Reinforced stone gratings are an attractive option that can also hold up over time. These gratings are rust and corrosion-resistant, leading to less maintenance. Plus, they absorb less heat than traditional ferrous grates.
While the base product is important, you should also choose a supplier that offers customization. Allowing you to ensure your gratings meet both your practical and aesthetic needs. Having a close hand in the design process will help deliver your product exactly as envisioned.
Suppose you want to create a cohesive look throughout the area. In that case, you should consider choosing a drain grate supplier that can supply additional matching items, such as tree grates and ventilation grilles.
Jonite is committed to continually improving our sustainability. All of our gratings are made with a minimum of 95% natural aggregates and a maximum of hybrid polymers. Plus, they are made with at least 30% recycled materials.
Our reinforced stone gratings have the strength to handle loads just like steel and cast iron gratings can. However, they also have additional benefits, such as up to 80% lower carbon footprints.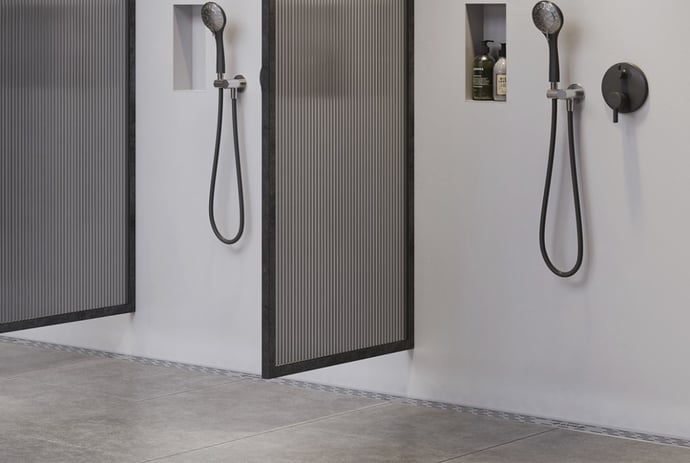 Gratings can even be used in indoor settings, such as these Easy Drain shower drains.
Past Jonite Projects
Many of Jonite's past projects involve public spaces, where trench drain grates are prominent. These drains can be found outside commercial buildings, like the Tampines Mall, surrounding churches, like the Novena Church, or even the exterior of the Burj Khalifa.
These drains are critical in stopping water while still allowing foot traffic. Everyone knows that a subway filled with water is a bad situation, but people still need to get in and out. Which is why the Orchard MRT has Jonite's trench grates surrounding it.
Another public space where Jonite's trench drains shine is in public parks. The twisting and meandering paths at Marine Cove need drains that twist and turn with them. Here, Jonite's curved drains get the job done.
There are even a few places where you may encounter Jonite drains unexpectedly. Public bathrooms at Singpost Centre use Jonite's drains to keep the area dry and sanitary. Meanwhile, Yale-NUS uses grates to create benches and tables, which prevent water from pooling up on these pieces of furniture.
Jonite has worked on residential projects in both Singapore and the USA. Many of these residences have included pools with Jonite pool grates. In a place like Hutchinson Shore, where jets splash even more water, these pool grates are essential in keeping the area dry.
Where Will You Use Drain Gratings?
Drain gratings can be used in a variety of applications in both indoor and outdoor locations. When choosing your drain grate supplier, make sure to go with one that will create a product you love and allow you to customize your gratings fully. Jonite will provide you with high-quality reinforced stone gratings for use in your next project.
Contact Jonite to get in touch with our design team and start creating the drain gratings of your dreams.