Sustainable architecture is a general term often referred to as green/environmental architecture, in which buildings are designed with an eco-friendly approach to limit harmful effects on the environment. It is achievable in various ways ranging from building materials, energy consumption, space planning, and many more. One way to evaluate a building's sustainability is by using the British rating system, BREEAM assessment.
The world's leading sustainability assessment method, BREEAM (Building Research Establishment Environmental Assessment Method), is used for master planning projects, infrastructure, and buildings. It commends and reflects the value in higher performing assets across the built environment lifecycle, from new construction to in-use and refurbishment.
As part of architectural trends that are here to stay, the following discover the examples below of sustainable buildings found all around the world.
One Angel Square - Manchester, United Kingdom
Located in the heart of Manchester, UK, One Angel Square is a new office building with an outstanding BREEAM score of 95.16%. The building is an iconic piece in the world of sustainable architecture.
The building has a double skin façade, which helps reduce heat during summer and cools the building during winter. For example, the atrium floods the building's interior with light which is reflected by the exposed white-painted concrete coffered floors, reducing the amount of artificial lighting required to light the building from 550 to 300 lux.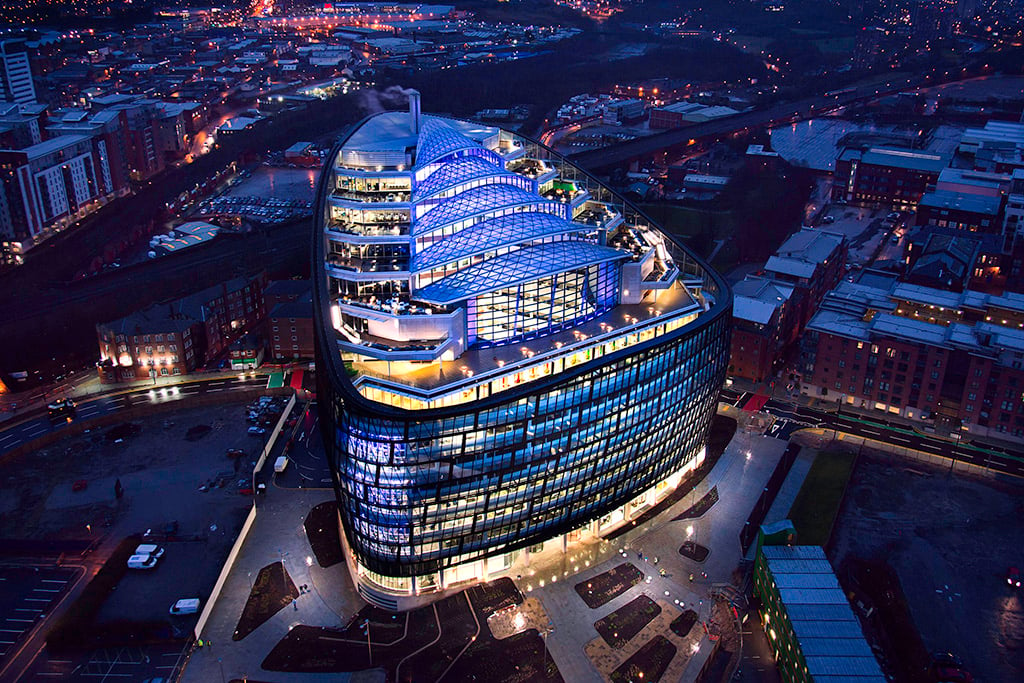 © The Co-op Group | https://www.flickr.com/
One Central Park - Sydney, Australia
One Central Park is a mixed-use dual high-rise building located in Sydney and the most notable sustainable architectural project in Australia.
The building includes a range of "green infrastructure", including green roofs, recycling demolished materials, adaptive reuse of buildings, sewer mining, water harvesting, tri-generation power plant, and car sharing. The sunken courtyard contains a large planter placed into the structure for the trees.
The building contributes to the environment by reducing up to 80% of greenhouse gas emissions, meeting 90% carbon neutrality and meeting all non-potable water needs and reducing the load on public drainage systems.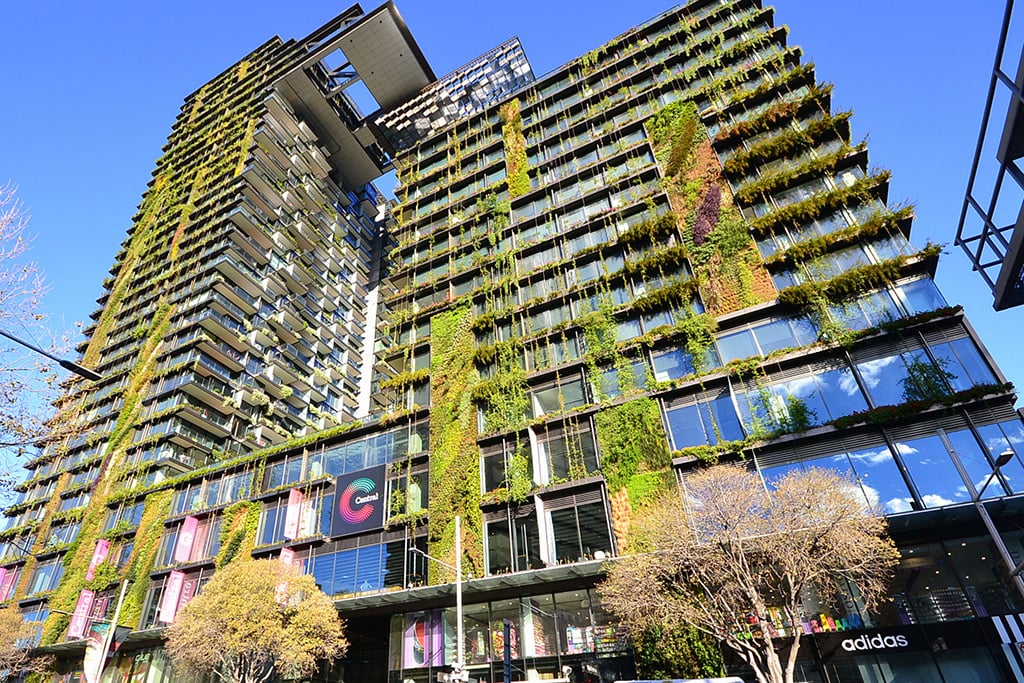 © Sardaka | https://commons.wikimedia.org/
Vancouver Conventional Centre - Vancouver, Canada
Designed to bring together natural ecology and built environment, the Vancouver Convention Centre West accentuates their interrelationships through its architecture.
The structure uses a seawater heat pump system that takes advantage of seawater's constant temperature to cool down the building during warmer months, and warming in cooler months, contributing to a 60% reduction in energy use compared to typical convention centres. Other green features include a living roof that hosts over 400,000 local plants to recover rainwater and attract birds and butterflies.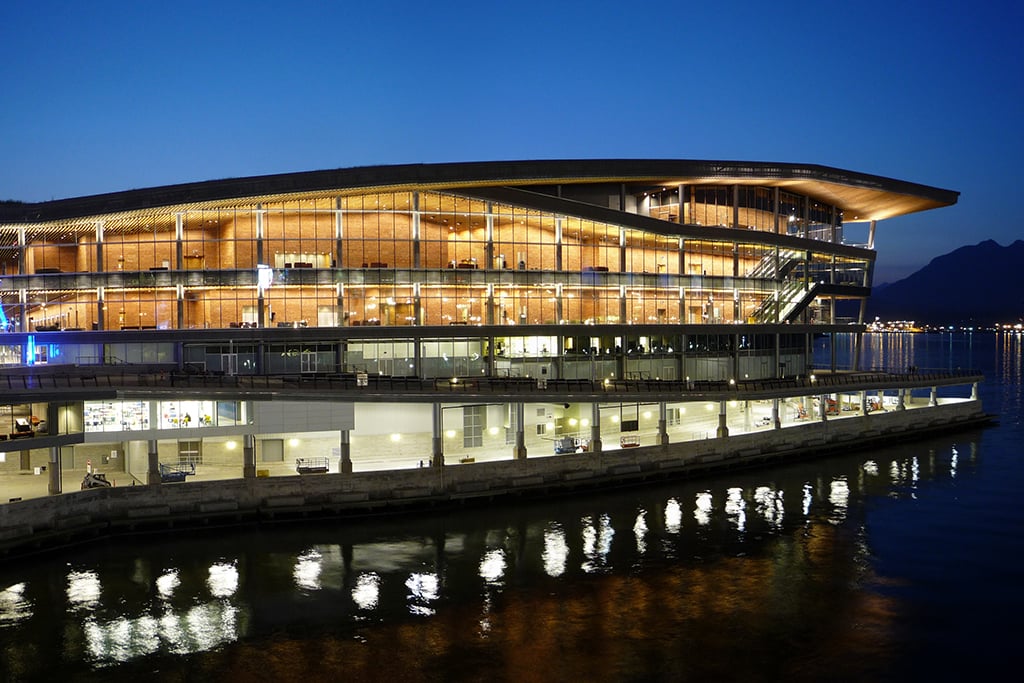 © Bobak Ha'Eri | https://commons.wikimedia.org/
Frick Environmental Centre - Pittsburgh, United States
Built as a centre dedicated to experiential environmental education, this sustainable building is designed by involving various interactions within the community. The three-story building collects rainwater from the building roof and reuse it to attain net zero-waste within site. The building also depends on passive heating and cooling strategies, like using a high-performance, highly insulated exterior wall encased in black locust, this locally sourced wood does not require sealant or staining.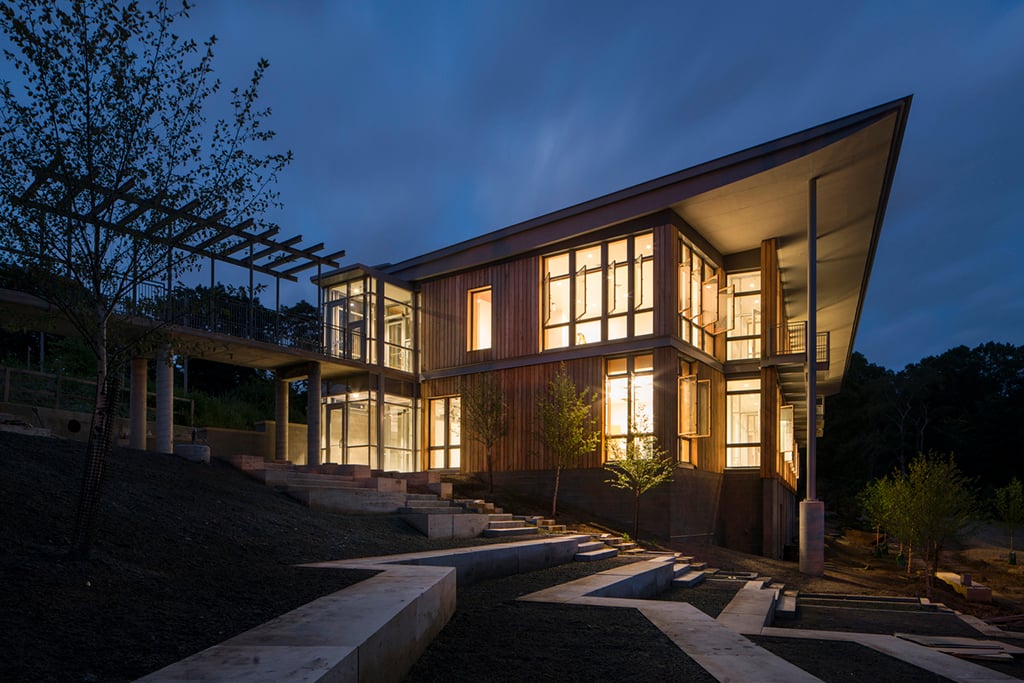 © Nic Lehoux | https://www.archdaily.com/
The Edge - Amsterdam, Netherlands
The Edge is the world's greenest building, with a remarkable BREEAM score of 98.4%, the highest awarded.
The solar panel located at the roof provides more than enough power to the entire establishment as it uses seventy per cent less electricity than a typical office building. Thick load-bearing concrete helps regulate heat, and deeply recessed windows reduce the need for shades, despite direct exposure to the sun.
One notable energy-saving feature the building has is the use of extremely efficient LED panels by Philips, specifically made for the Edge. It creates a "digital ceiling", which is filled with multiple sensors like motion, light, temperature, etc., which is powered by the same electrical cable that carries data for the Internet. This sensor-equipped lights runs throughout the building and even in the garage, where the lights automatically brighten as one approaches and dims as one leaves.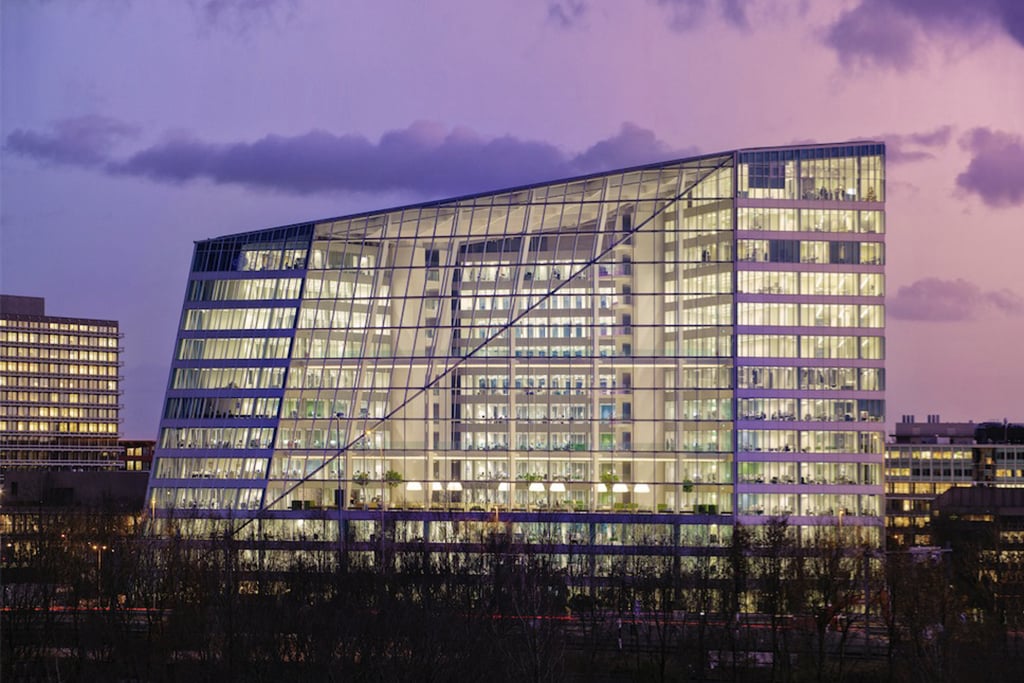 © Ronald Tilleman | https://www.archdaily.com/
Over the past few decades, architects have gradually become more aware and conscious on achieving environmentally sustainable buildings. With a restricted supply of non-renewable resources, they cautiously plan from the early development stages, all the way to the building demolition, to pull off a green and sustainable building.