First impressions are important for anyone and anything. This is why keeping a well-maintained landscape is important, as it serves as the property's way of making a first impression. A landscape can be visually pleasing while also providing a practical border.
However, upkeep is important in order to continue looking good. This is why it is necessary to keep the landscape maintained and the perimeter up to date as well as occasionally renew them both. This is especially key if the perimeter includes elements such as bollards or fences, which also require regular upkeep.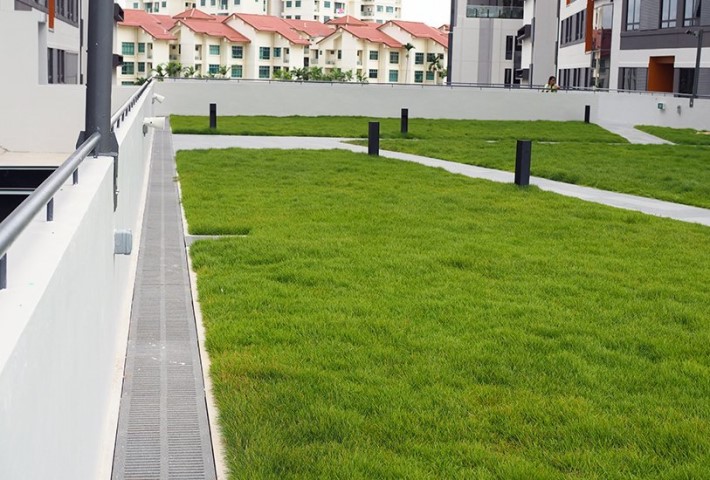 Regular maintenance of perimeter areas of a landscape keeps them looking beautiful and functioning properly.
Maintain function of moving parts
Moving parts of perimeter installations need maintenance throughout the year to prevent degradation and loss of use. For example, it's important to apply lubricant three or four times a year to bollards with moveable parts. Occasionally debris may get into below-ground bollard receivers. If this happens, simply vacuum the debris out to reduce possible damage.
Replacing accessories on the perimeter
Small accessories such as a bollard receiver lid or chain may be easily removed and misplaced or broken. If this occurs, it is important to re-order and re-install the parts. It's a simple task that ensures the landscape perimeter stays in good shape.
In addition, be sure to check on other accessories placed throughout the landscape. LED lights can have their lids fall off or break, as can other decorative accessories.
Replacing bent bollards and damaged grates
Iron and steel bollards are prone to corrosion if they receive any scratches and scrapes to their surface. However, they may also become bent and damaged if they are hit by a vehicle. Other times, retractable bollards are no longer able to be lowered. Bent and damaged bollards may need to be replaced or else they will no longer serve their purpose. Keep in mind that some may even need to be dug up from below ground, depending on how they are installed.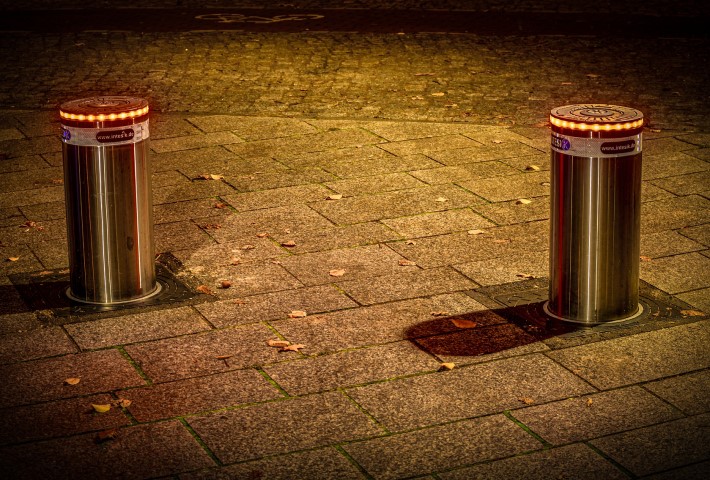 Bollards are an effective way to mark a perimeter, however, they require regular maintenance to stay functional.
©Scholty1970 | http://www.upixabay.com/

Grates, especially those made of aluminum and iron may degrade and become damaged beyond use. This can become even more of an issue in areas with extreme weather conditions. However, one can reduce grates maintenance and extend the longevity of the grates by replacing them with reinforced stone grates. This material is much more durable and can lend a refreshed look to the landscape, whether it's used for tree grates, trench grates, or anything between.
Touch-up paint for scratches and scuffs
While major issues such as bent bollards and damaged grates may be replaced as soon as they're noticed, smaller repairs often go unnoticed and unfixed. They can provide places for corrosion to begin as well as making the area look more run-down and unkempt.
If you see any scratches or scuffs, especially on metal, find touch-up paint that matches the colour and finish of the fixture. A simple fix can keep landscape elements looking top-notch.
Redoing powder coat
Touch-up paint is an easy option to fix small scratches and scuffs. But, powder coating can help prevent them from becoming a problem in the first place. Powder coating landscaping features helps them last longer than simply painting them. With a thick coating and strong adhesive properties, it can be ideal for items that are exposed to heat and the elements.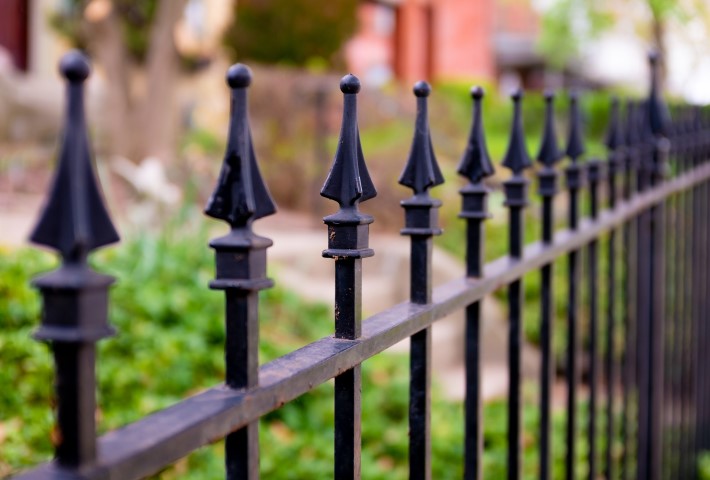 Powder coating perimeter fixtures such as fences can reduce maintenance and make them last much longer. | ©Joshua Olsen | http://www.unsplash.com/
While a powder coat may last up to 20 years, it's important to regularly inspect these types of items for damages. If you catch the damage on these items before it gets too bad, you can redo the powder coat and prevent additional damage. Some landscape fixtures can be powder coated even if they have not been in the past. This can provide an elegant finish and reduce the maintenance required in the years to come.
Grate covers for style update
If you're looking to elevate the style of your landscape, replacing your old grate covers with reinforced stone grates is an easy way to accomplish this. For example, iron tree grates may become rusted, resulting in a less-than-appealing look. But you could replace them with reinforced stone grates that will maintain their appearance for years to come.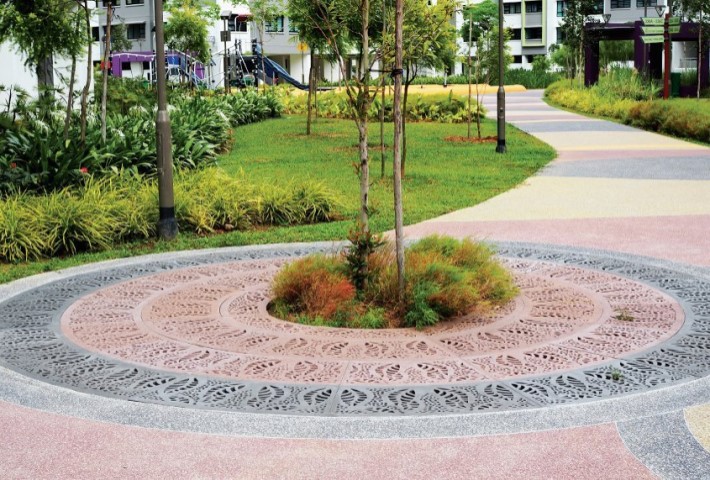 Updating grates throughout the landscape can give a fresh look to the area.
Plus, Jonite's grates can be coordinated across the landscape design for a more cohesive look. At the same time, the tree grates are installed, you could replace your trench grates and even benches with a matching look. With a variety of customization options available, it's easy to get the exact style that you want.
Yearly maintenance for a beautiful site
A landscape is not something that is planned and installed and can be left on its own. It needs regular yearly maintenance in order to maintain the original beauty of the site. Every year, you should schedule an inspection in the fall to find any issues that need to be addressed. But, a thorough check can ensure everything is ready to handle the elements before winter.
In addition, this fall inspection is the perfect time to begin planning updates to be done in the spring. As a landscape architect, you'll have plenty of time to make the aforementioned updates and repairs that will leave the landscape with a fresh look to be enjoyed when better weather rolls around.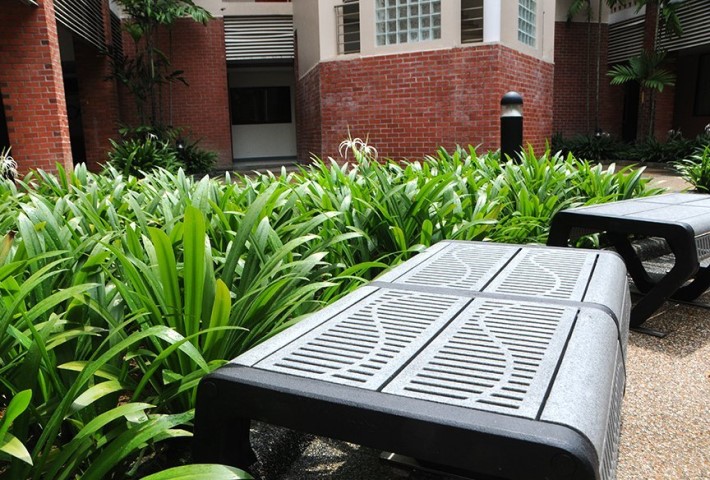 Reinforced stone grates and benches make an easy to care for and aesthetically pleasing addition to any landscape.
Final Thoughts
If it's not maintained, a landscape design will quickly lose its aesthetic appeal and possibly even its ability to be used. By sticking to a yearly maintenance schedule, one can ensure that the landscape and perimeter will continue to look beautiful year after year.