Architecture is not all about a structure. Landscape design also comes into play in the design of a building. It is a bridge that connects a built structure to its surrounding environment, a man-made architecture to strike an equilibrium of an urban element in a natural space. Having a structure on its lonesome makes for a rather dull aesthetic, but with modern landscape design, the atmosphere changes significantly.
Good landscaping can transform any property | @metricon
Landscape design has been around for centuries, with various styles and purposes evolving over time. In ancient history, landscaping was used in gardens to create captivating aesthetics by using ornamental elements. As time went by, landscape design was used to create functional spaces to grow food and shelter animals.
It wasn't until the Renaissance that landscape design began to be viewed as an art form in its own right. The gardens of that time were often used to showcase the wealth and power of the owner. There was a lot of emphasis on symmetry and balance, and the landscape designers used various materials, including plants, rocks, and waterfalls.
The Industrial Revolution ushered in a new era for landscape design. With the growth of cities and the rise of the middle class, there was a greater demand for public parks and gardens. Landscape designers experimented with new materials and techniques, such as steel and concrete. They also started to use plants from all over the world, which led to the development of unique landscape styles across regions.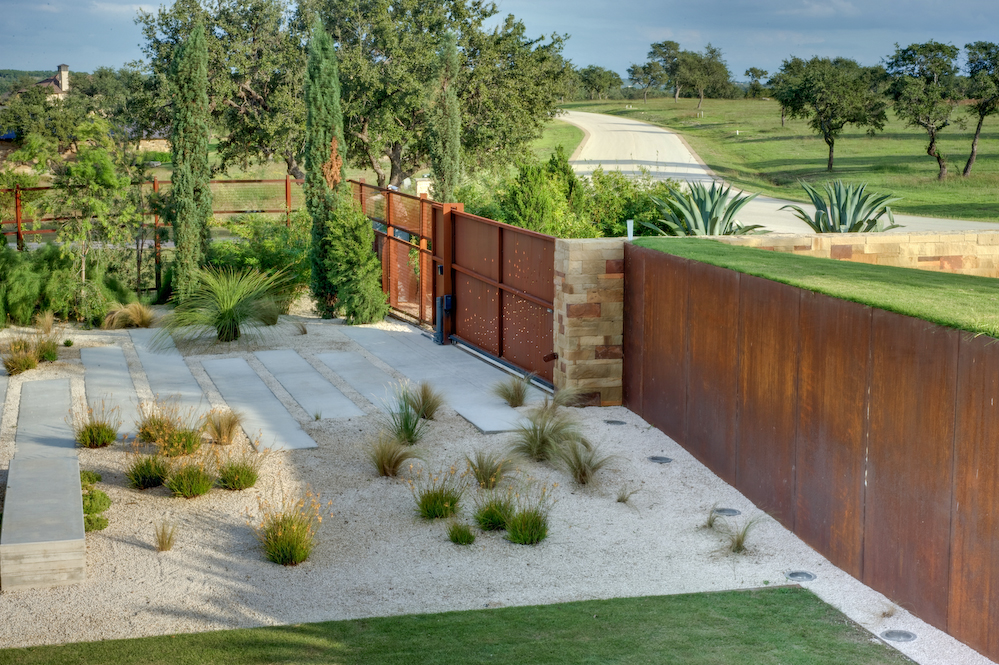 Use of plants, gravel, and stone to create a landscape | @landaesthetic
In the 20th century, landscape design continued to evolve. There was a renewed interest in natural materials and sustainable design principles, and landscape architects began to place more emphasis on creating functional spaces that harmonized with the environment. In recent years, there has been a trend toward more interactive landscape designs, such as public gardens where people can relax and interact with plants and animals.
So landscape design has come a long way, and it's still evolving today. There are many different ways to approach landscape design, so it's always interesting to see what new ideas people come up with.
Materials
When it comes to modern landscape design, there are many different materials that can be used. For example, stone, wood, concrete, steel, and bricks are generally used in modern landscaping.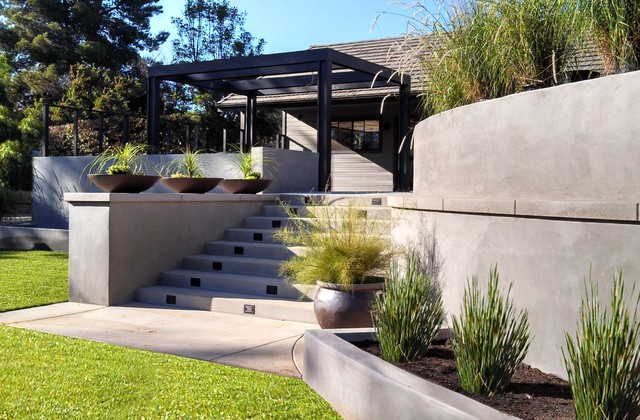 Different materials in a landscape work together | @springfielddesign
The choice of material is important. Each material has its own purpose in landscape design - for instance, wood is generally used for decking and concrete for driveways. But it does not end there. Having a palette of materials that fit specific purposes in a landscape can create a captivating scenery, where different materials can come together to create different textures. In addition, plants and trees can be used to breathe life into the atmosphere, and water features such as ponds, pools, or artificial waterfalls can also be included in the design to create a sense of tranquility and peace.
Now that you know a little bit more about materials and landscape design, let's take a look at some unique examples of materials that could potentially be used to create a beautiful exterior for your property.
Corten Steel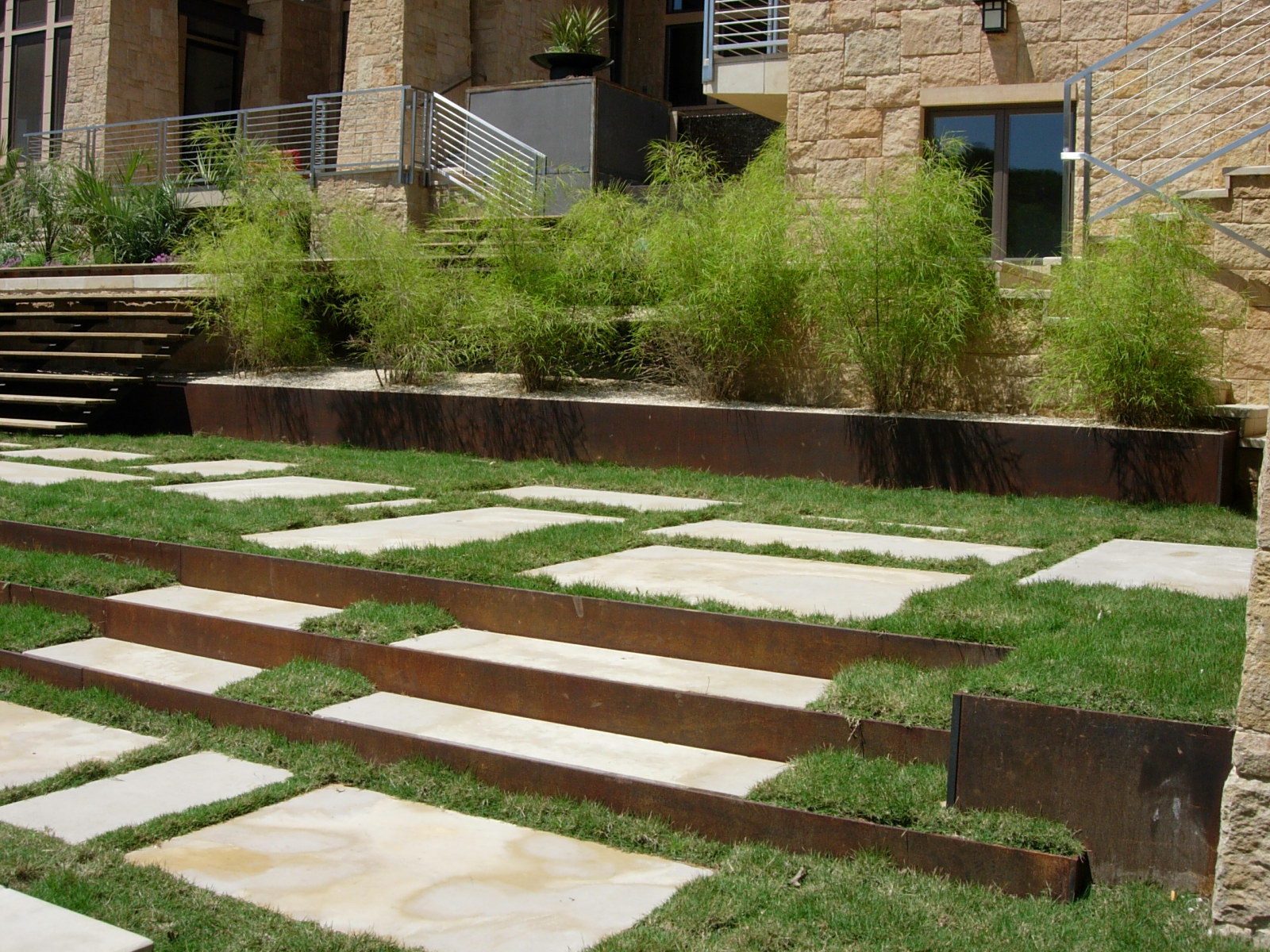 Steel panels create a stunning contrast to lawn grass | @redagave
Also known as weathering steel, Corten steel is a type of steel that is used in modern landscape design. With a natural rust-like appearance, Corten steel is an excellent choice for modern landscaping because of its corrosion-resistant and weather-proof properties.
Corten steel has become increasingly popular in landscape design due to its unique aesthetic. It has a warm orangey hue that contrasts nicely with green plants and trees, and it also weathers well, meaning that it will continue to rust over time, creating an ever-changing landscape, a blend of nature's green and the aging steel.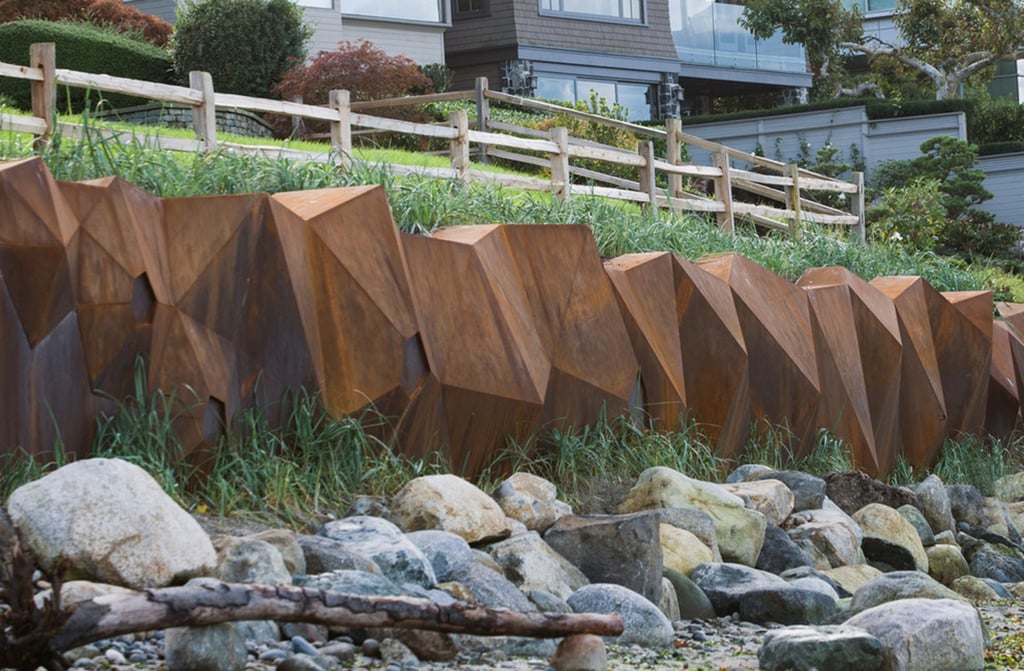 Corten steel shaped into eccentric geometric designs | @paulsangha
There are many ways to use Corten steel in landscape design. For example, it can be used for edging, fencing, dividers, decking, or even walls. It can also be used to create sculptures or other features in the landscape.
If you're looking for a stylish and functional material, Corten steel may be a good option for you. It is durable, weather-resistant, and has a unique rustic appearance that will add character to any landscape. Corten steel is an extremely versatile material that is only limited to the imagination of the designer.
Smart Concrete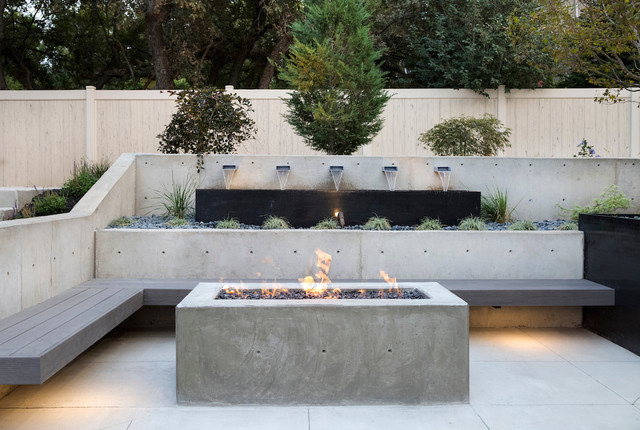 Smart concrete creates a calm ambiance | @decorativelandscaping
Concrete has been used in landscape design for many years, but it is now becoming more popular due to the development of "smart concrete". Smart concrete is a type of concrete that has been developed to be more environmentally friendly, being made with recycled materials and can be manufactured to be lighter in weight, meaning that less fuel is required to transport it.
Smart concrete has self-healing properties. For example, if there is a crack in the concrete, the material will slowly fill in the crack over time, repairing itself. This makes smart concrete a more sustainable choice than traditional concrete, which often needs to be replaced after a few years. Smart concrete also has the ability to react to stress and temperatures.
Smart concrete used in various ways | @shksarchitects
There are many applications for smart concrete in landscape design. For example, it can be used for paving, driveways, pathways, and even walls. It is also a good choice for pool surrounds and other areas that come into contact with water, as it is non-toxic and does not release any harmful chemicals.
Smart concrete is a great choice for anyone who wants a sustainable landscape that does not require a lot of maintenance. It is durable, environmentally friendly, and self-repairing, making it a smart choice for the future.
Composite Wood
Composite wood provides a warm atmosphere | @deckorators
Composite wood is a type of man-made wood that is made from recycled materials, where wood particles are mixed with thermoplastic resins to create a strong material. While this does give the material an artificial appearance, it is a sustainable option as it is much more durable and long-lasting than regular wood.
It is often used in landscape design because it is durable, rot-resistant, weather-resistant, and low-maintenance. Composite wood comes in a variety of colors and textures, making it a versatile choice for any landscape. However, it is important to note that composite wood can be quite expensive.
There are many ways to use composite wood in landscape design. For example, it can be used for decking, fences, pergolas, gazebos, or arbors. It can also be used to create planters or sculptures.
Lawn Grass
Lawn grass adds a natural accent to a landscape
Lawn grass is one of the most popular choices for landscape design. It is the very basic foundation of any garden in a landscape design. Lawn grass is versatile, affordable, and easy to maintain. Lawn grass can be used for a variety of applications, such as paving or edging.
It is important to choose the right type of lawn grass for your landscape. There are many different varieties of lawn grass, each with its own unique characteristics, textures, and colors. You will need to consider the climate and weather conditions in your area before deciding which is best.
Lawn grass can be used in a variety of ways | @exteriorworlds
Once you have chosen the right type of lawn grass, it is important to take care of it properly. You will have to water it regularly, mow it often, and fertilize it occasionally. If you follow these simple steps, your lawn grass will stay healthy and vibrant.
Using lawn grass in your landscape design can help to create a sense of tranquility in the atmosphere. However, a good landscape design will use lawn grass alongside other materials and elements to create visual diversity, if not, you will end up with a rather dull aesthetic.
Reinforced Stone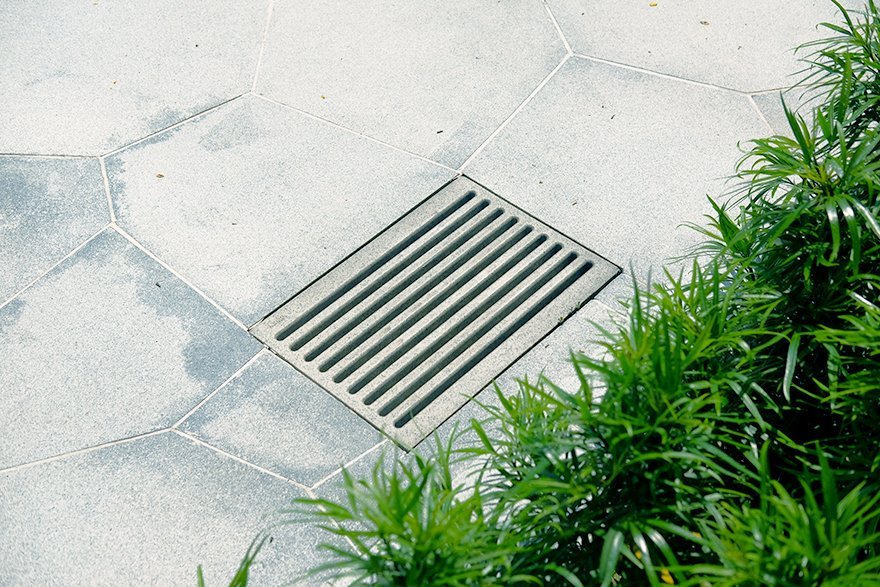 Reinforced stone sump covers add a touch of luxury to any property
Reinforced stone is a type of stone that has been reinforced with a synthetic material. This makes it stronger and more durable than traditional stone, making it a popular choice for landscape design.
Reinforced stone can be used for a variety of applications, such as paving, edging, grating, or even as a wall. It is also a good choice for areas that come into contact with water, such as pool surrounds.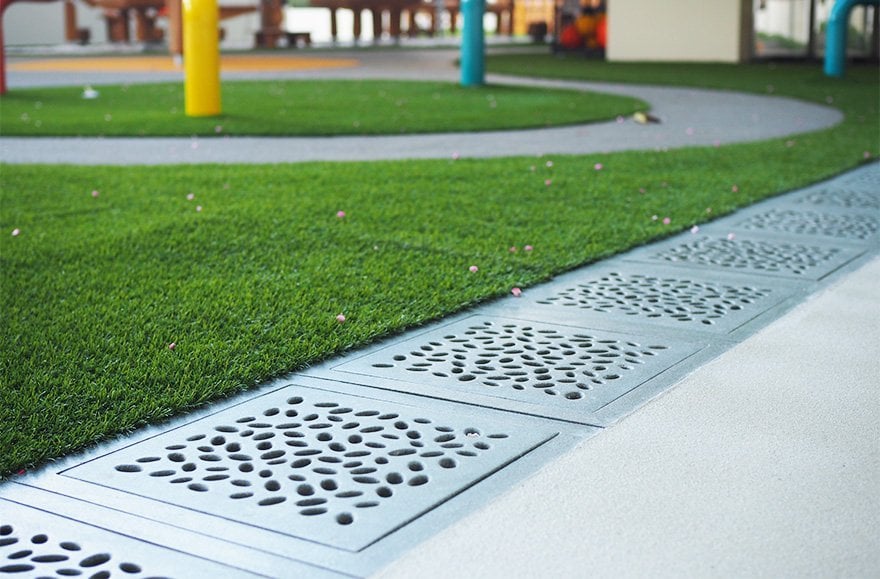 Reinforced stone as a way to section your landscape
One of the best things about reinforced stone is that it is low-maintenance. You will only need to sweep and wash it occasionally to keep it clean. It does not require any special care or maintenance, making it a great choice for busy homeowners.
In addition, reinforced stone can be used to replace steel in areas where water is involved, such as trenches, pools, or drainages. If you're looking to add reinforced stone to your landscape, Jonite is the perfect partner for you. As the first and only manufacturer of reinforced stone gratings, Jonite leads in providing products that offer not just functionality, but also a variety of aesthetic choices.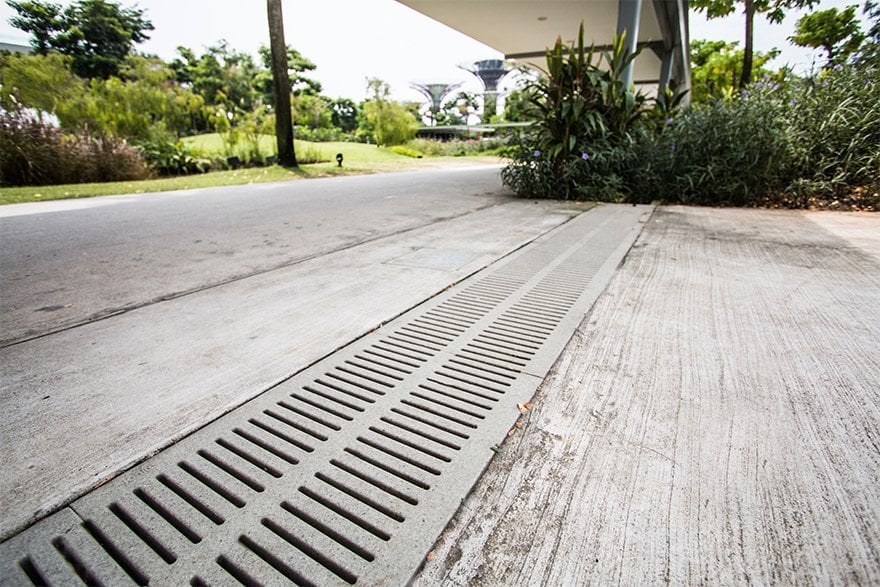 Jonite offers reinforced stone gratings in a variety of patterns and colors
There are many different materials that can be used in modern landscape design. Each material has its own unique properties that can be used to create beautiful landscapes. So if you're looking to update your landscape or are just starting out, be sure to explore all of your options to find the perfect fit for you.