To leave a good first impression on travellers from all walks of life, it is vital to not only ensure the cleanliness of the airport but also to take note of how each airport can stand out on its own in terms of its structure and design. Let us look at some of the most beautifully designed airports worldwide where entering them acts as an additional bonus to our travelling experience.
Step into a world of greenery and life, especially at Changi Airport's new lifestyle terminal, Jewel, which was perfectly modelled after a 'mythical garden' by world-renowned architect Moshe Safdie. Beyond just an airport mall, Mr Safdie wanted to bring in daylight everywhere, from above, such that even when walking in the enclosed air-conditioned terminal, you will be conscious of the trees and plants around you.
Perhaps the first thing you would notice about the architecture of this terminal would be the 'HSBC rain vortex' right in the centre. Known as the world's tallest indoor waterfall, Jewel's rain vortex lives up to its name as it recirculates rainwater to cool the indoor environment, providing an environmentally friendly alternative to electrical consumption.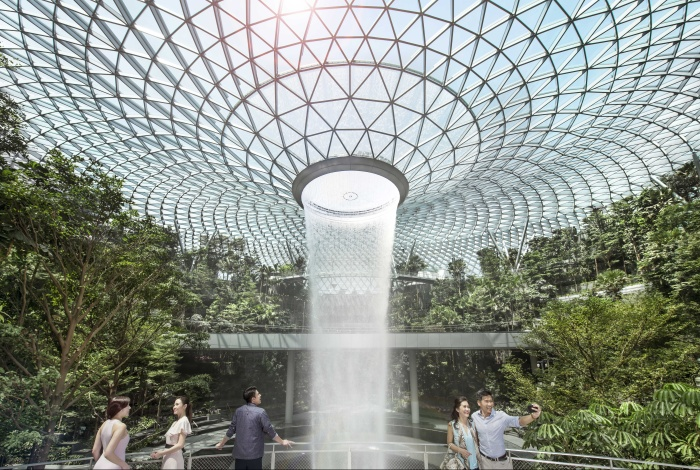 ©Jewel Changi Airport | An example of how the rain vortex looks like
In fact, Singapore Changi Airport is known for its visitor experience on a global level. Do not forget to take a few snapshots when you're here for Jewel's doughnut-shaped structure coupled with its architectural inclusion of bringing outdoors indoors is one that uniquely represents Singapore as a green city and cannot be seen anywhere else.
Beijing Daxing International Airport
Designed by the late Zaha Hadid and current studio principal Patrik Schumacher, along with airport specialist ADPI, the five-pronged terminal building has been designed to be as compact as possible. To give an overview, the airport is arranged around a central 'grand courtyard' with five aircraft piers around it. If viewed from the top, you can observe a starfish-like appearance!
The architectural design of this airport focuses on efficiency, where there are airbridges connecting directly to the terminal arranged around the five aircraft piers to allow large numbers of passengers to reach their planes fast. There is also an additional sixth arm that contains high-speed and local rail stations, as well as offices and a hotel.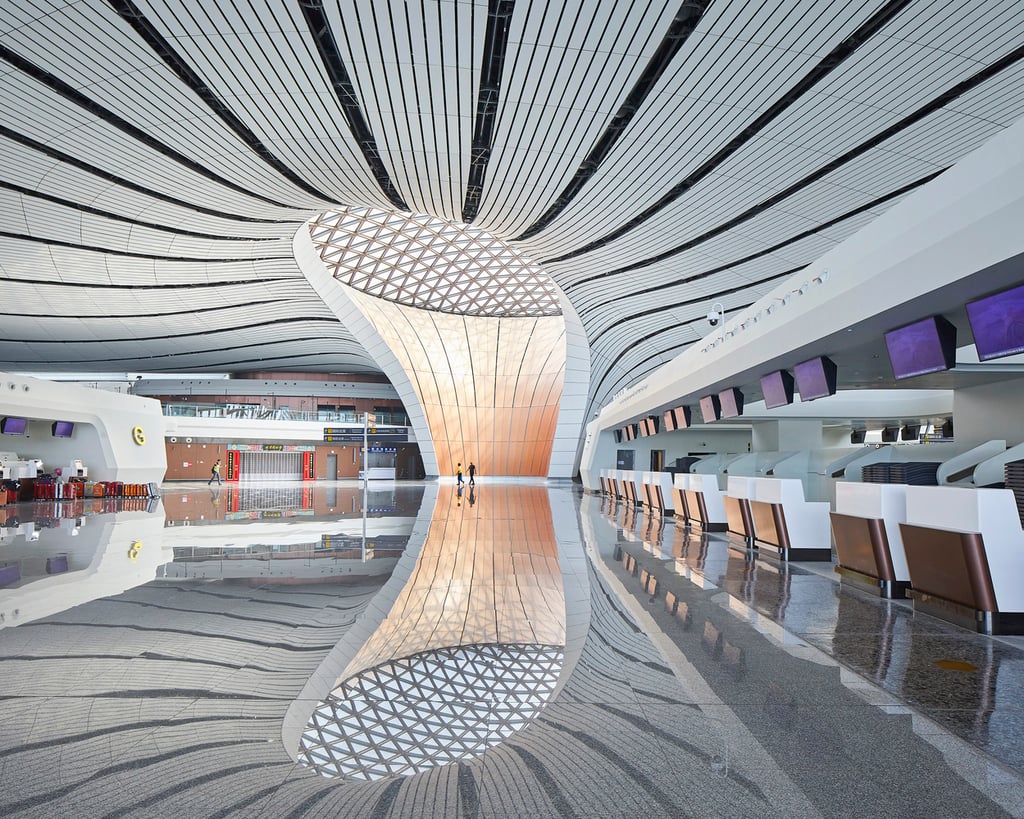 ©Bloomberg | A view of Beijing Daxing International Airport
On a more environmentally friendly perspective, the Beijing Daxing International Airport is powered by solar panels and a centralised heating system with waste heat recovery supported by a ground-source heat pump. There is also a rainwater collection and water management system. Indeed, the design of this airport is built while considering alternatives that can better protect the environment.
Kuwait International Airport
Built to withstand one of the hottest environments on Earth, Kuwait International Airport, overseen by acclaimed British architect Norman Foster, is designed to attain a LEED Gold standing. The structure centres around an 80-foot room that features special skylights that brightens the halls and deflect direct radiation. It also includes a roof covered in solar panels to conserve energy usage. The structure is built to create the best shelter from the sun's harsh rays while providing a breathtaking view.
Indoors, the terminal consists of three symmetrical departure gate wings and can accommodate up to 13 million passengers. As part of a larger masterplan, the airport is strategically located to enable future size expansion to 50 million passengers.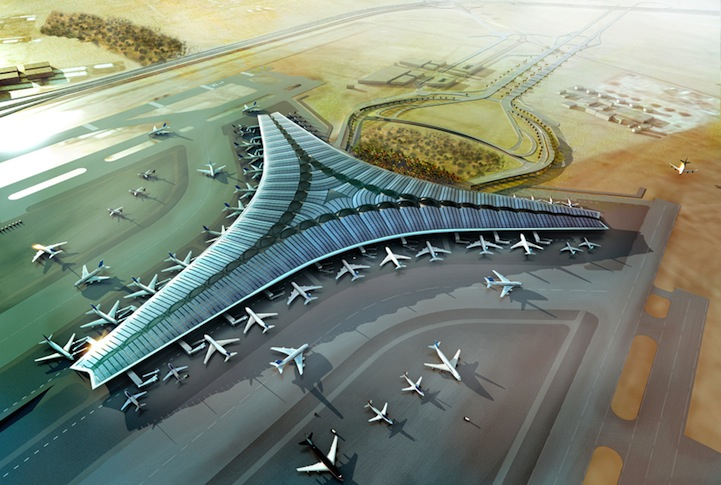 ©ArchDaily | A bird's eye view of Kuwait International Airport
Additionally, the symbolic three-winged form will act as a new symbol of contemporary Kuwait, representing its rich culture and history. This is because such design is commonly referenced to the 'Al Sadu' traditional pattern that symbolises their origins and belonging. The airport took such cultural aspects into their design and incorporated them in the exterior facade panels, custom interior ceiling and wood wall panels to allow its distinct local image to shine through.
Kansai International Airport
Next, designed by Italian architect Renzo Piano on an artificial island, Kansai International Airport was opened to relieve overcrowding issues at Osaka International Airport. Yet, the architecture of this building was one that took us by surprise. Barely four months after opening, this airport managed to survive the Kobe earthquake of magnitude 6.9 with minimal damages. Its exquisite structure with a large curving roof shaped like an airfoil was specifically designed to handle Japan's frequent earthquakes.
Moreover, Kansai International Airport utilised the latest technology and industrial design developments as part of the high-technology architecture movement. This airport has an asymmetrical clear-span roof supported by 80-metre-span beams held up by angled columns. The terminal stretches 1.7 kilometres long with 42 boarding gates.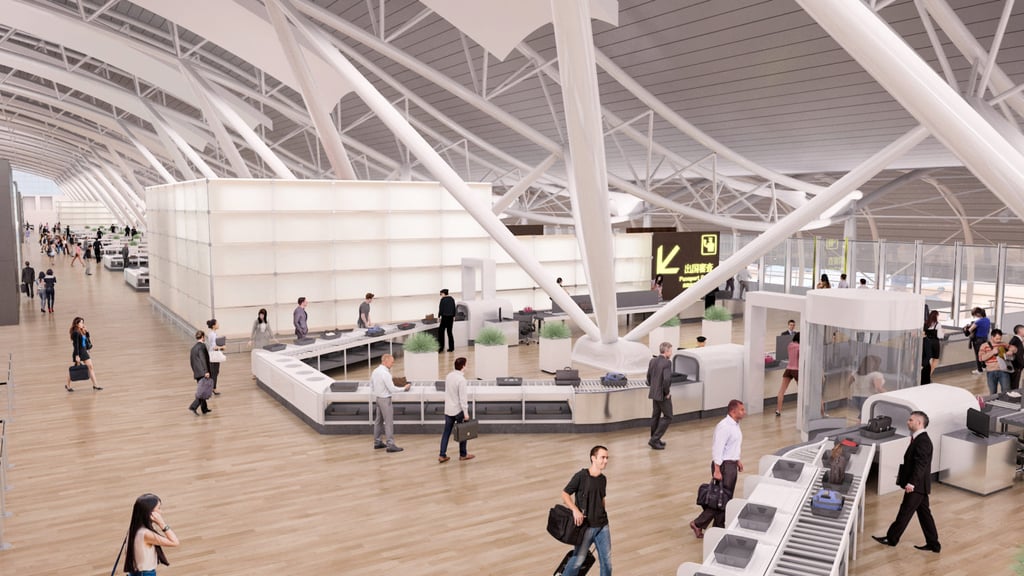 ©Pinterest | The interior of Kansai International Airport
Indeed, this structure not only showcases practicality and protection against Japan's frequent earthquakes, its design also elaborates enough to present Japan's intricacies and beauty.
Denver International Airport
Curtis Fentress focused on the functionality of this airport - its affordability, speed of building and most importantly, a design that will stand out. Designed to mimic Colorado's snow-capped Rocky Mountains, the unique structure of Denver International Airport may stand out from afar as a line of fabric-covered tents. In a sea of mundane infrastructure, the tent-like image of this airport looks especially striking when it reflects the soft glow of the sunset and sunrise.
©Daily Advent | An aerial view of its tent-like exterior design
While the exterior captivates the public with its beauty, its interior attracts travellers with its environmentally responsible airport design. Natural daylight seeps into the terminal via its numerous clerestories, curtain walls and translucent roof. The roof material allows light to pass through the fabric during the day, reflecting up to 90% of solar radiation in a high-altitude environment to reduce solar heat gain.
With such an innovative yet practical design, Denver International Airport has gained recognition for being the first airport on the EPA's Environmental Track Program, and the first airport to design and implement an environmental management systems program in the United States that meets the rigorous International Organization for Standardization 14001 International Certification Standard. It is safe to say that this building leads the sustainability movement at airports.
Final Thoughts
Overall, while it is often known that airports are the catalyst of economic growth, when we take a step back to look at the bigger picture, airports also set a particular image that represents a country's history and culture. To ensure that a country's tourism continues to grow in the near future, it is vital that the design and architecture of an airport live in the memories of travellers for its functionality and beauty.