People often associate the words "traditional and modern" with old and new. A common misconception about traditional and modern architecture is age. In reality, some modern homes are nearly a hundred years old, while other newly-built homes choose to adopt a traditional style.
Traditional home styling is perfect for those who fancy antiques, classic art pieces, symmetry, and other design elements that are rich in history. The style takes pride in its harmony, order, and its friendly charm. They tend to have common features like wide porches with overhanging beams and rafters, dormers, and a tall, pointed roof with one or more gables. These features are often built with traditional materials such as brick, wood, plaster, stucco, and stone.
In contrast, modern home styling rejects those classical flourishes to achieve a simple and clear design style. Its purpose is to allow these basic structures to speak for themselves. Unlike traditional styling, modern construction opts for more technologically-advanced building materials such as reinforced steel, concrete, and plastic.
1. Floor Plan
While traditional homes have a larger floor plan than modern homes, space is mainly divided into several small and single-purpose rooms rather than just having a few large ones. To keep up with the trend of living a minimalist lifestyle, the implementation of multi-purpose rooms and open-concept spaces optimizes the modern floor plans, to make the most out of what is given.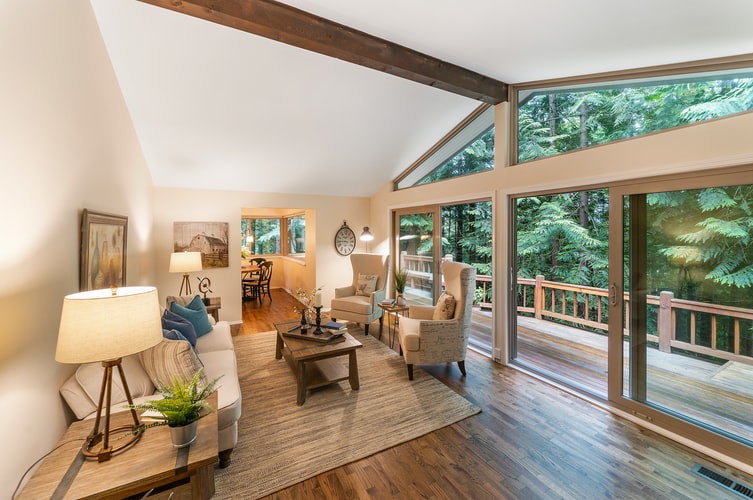 Modern house floor plan.
With an open floor plan, modern homes can minimize the usage of walls that are used to enclose sections in the house. Having an open floor plan is a key feature in modern homes and is often something that builders and architects design around.
On the other hand, traditional homes are incorporating a unique mix of architectural styles and features with reference from the past. Its floor plans blend familiar features with modern and up-to-date elements while satisfying the requirements of everyday living. It also comes in a variety of foundations such as a basement, walkout basement, crawl space, and slab foundations.
2. Windows & lighting
The size, placement, and usage of windows are completely different in traditional and modern homes. Modern homes take full advantage by placing large windows and skylights to allow an abundance of natural light. This makes their modest interior space feel spacious and airy. With the development of newer and stronger glass, it can soon replace the existing material used for these large windows.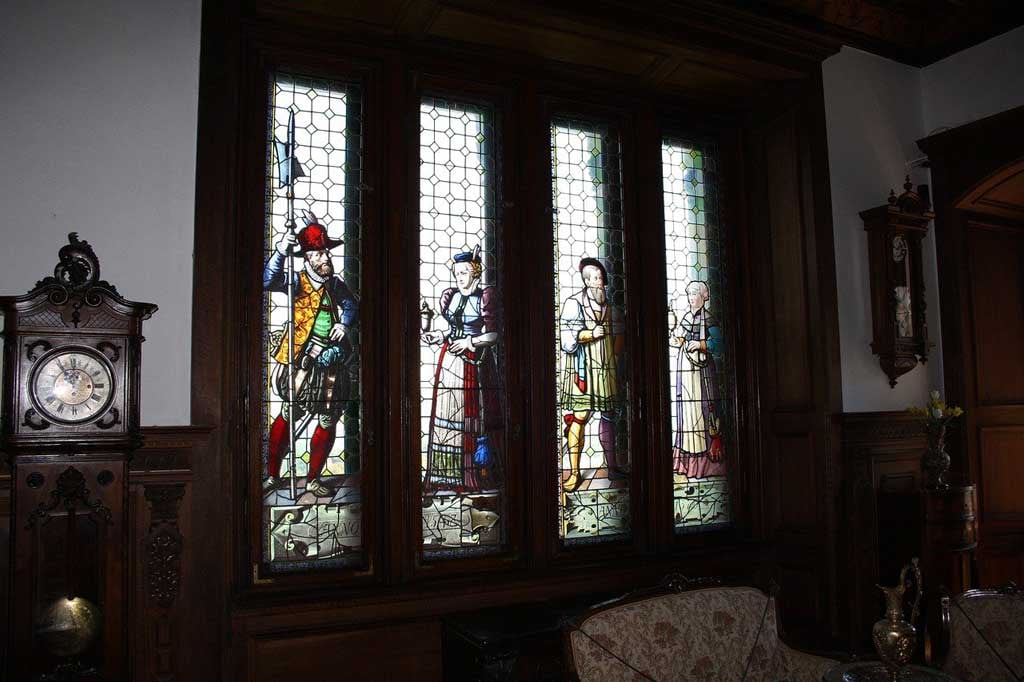 Small and symmetrical windows can be seen in traditional houses.
By comparison, traditional homes often place smaller and symmetrical windows of a similar shape and size. Thus, they require more artificial lighting. However, traditional homes commonly make up for what they lack in natural light with elegant and classy details like stained glass, hand-carved woodworking, and antique interior lighting. It tends to incorporate windows that are geometrically placed on the facade of the house, and are of a similar size.
3. Materials
Without a doubt, traditional architectures are usually built with traditional building materials. The usage of local materials in construction will eventually reduce building costs, turning traditional architecture into an economical advantage option. For instance, processes like refinement, acquisition, preparation, transportation, and maintenance of these materials can be greatly reduced. But that notwithstanding, traditional architecture requires a high level of ethical commitment to the locals, their locations, cultures, and traditions. Fortunately, people have found alternative ways to tackle the threat brought by extreme weather conditions.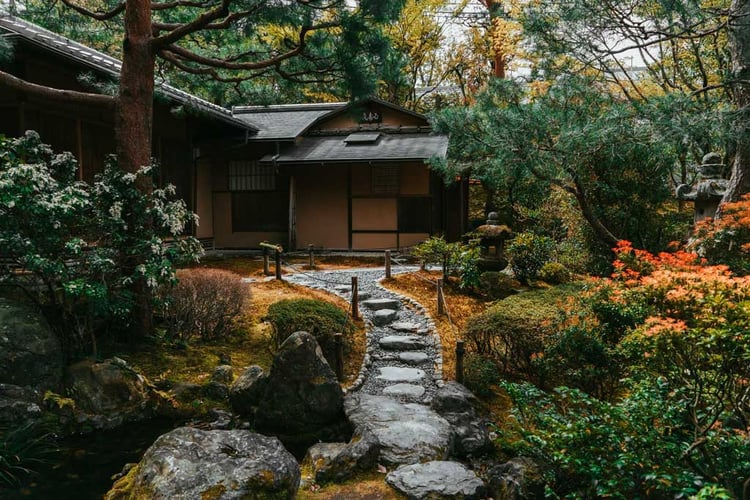 Local materials used to build traditional houses.

Whereas modern architectures take advantage of new and more technologically-advanced materials like concrete, reinforced steel, or even plastic is widely used. But it is generally not as robust as traditional building materials as the fundamental parts of the building are not integral. This aspect of modern architecture allows water penetration that ultimately weakens the structure over time.
With these being said, modern architecture does not roll away from traditional styles and natural materials completely. Linen, leather, and teak wood can also be found in modern architecture. The only difference between the materials used in modern and traditional architecture is the very focus of the functionality of structure and its simplified forms.
4. Decoration & furnishings
In the current society, many seek modern interior home design for their home design styles; however, we should not neglect the traditional designs entirely.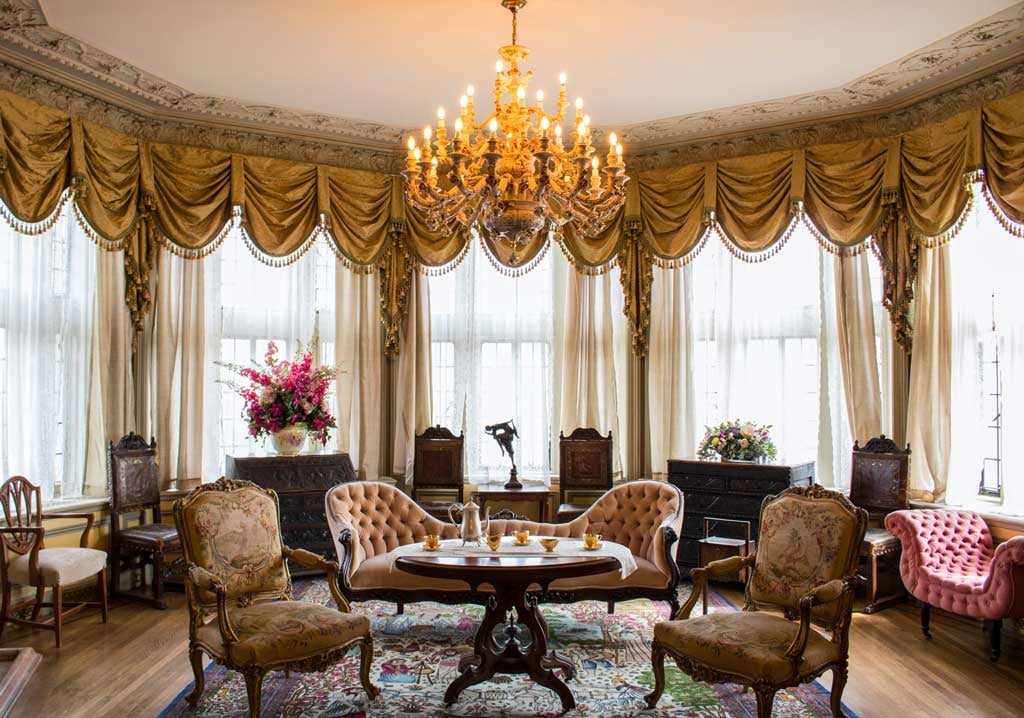 Traditional interior design in homes.
The traditional interior design prioritizes comfort over style as they reflect consistency, order, and attention to detail to have a relaxing, homey, and unfussy feel to them. A traditionally decorated home often has a separate formal dining room which includes a long wooden dining table and chairs arranged neatly along the sides, with a matching sideboard for glass and silverware. Ceilings are often white, with ornate mouldings and walls that features a flat finish or wallpaper. Window treatments are often heavy drapes with underpinnings of pinch-pleated sheers. Accessories can include pairs of lamps, plants, urns, mirrors, large ornate rugs, and shelves lined with books. A traditional interior would feature everything calm, comfortable, and classic.
On the contrary, modern interior design progressed from the Bauhaus design movement in Germany in 1919, which is based on the philosophy that form follows function. Thus, modern furniture pieces are often made from industrial materials like glass and metal, which could be of a modular design, usually featuring innovative storage options. Modern interior design is also influenced by Japanese design, which views space not as emptiness, but as an integral part of the design. Modern furniture features clean, straight lines, contrasted by plain walls, usually in one main accent colour like shades of turquoise, brown, rust, or greens, to produce a cool and organized effect.
5. Conclusion
The traditional home is inherently warm and inviting, and the intricate details make it feel like a space with a story. In opposition, modern homes have a charm of using natural light and efficient design to feel both spacious and cosy. In contrast to traditional architecture, the modern architecture uses energy materials that are relatively cheap and affordable for production and transportation, in this season when energy is cheap. More so, the tools, strategies, and materials are widely available for modern architecture than traditional architecture. As a result, what sets modern and traditional homes apart is just a matter of taste.