Wherever you are in Singapore, you are bound to be surrounded by HDB flats. After all, they are the most common form of housing. Although most flats share similar features, there are a few that stand out. But what makes a HDB flat different from the rest? A major factor to consider when designing a building is the landscape design, which includes softscaping, such as plants, and hardscaping, such as stones, concrete, and brick.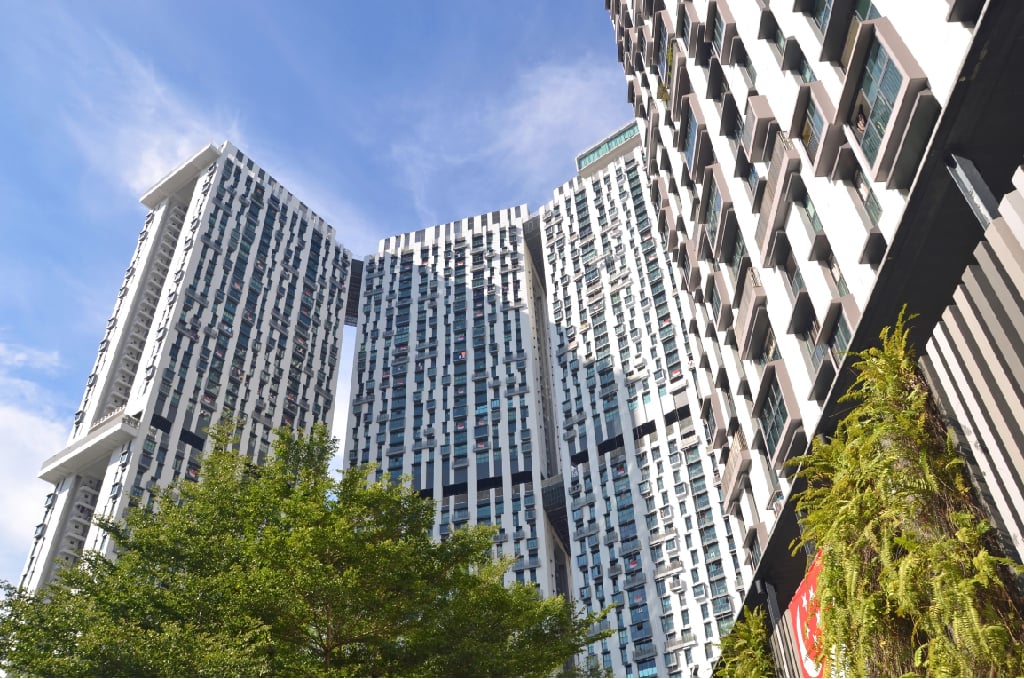 A HDB flat that has a unique ambience to it
A building's hardscaping is an integral part of its overall aesthetic, enhancing its beauty and surroundings. Observing HDB flats, you will find that most use simple steel grates, and though they are functional, they lack aesthetic appeal. Decorative grates, however, can make a hardscape more interesting. Jonite offers various designs and colours for architects to choose from that can be integrated into a building's hardscape.
So how can decorative grates bring emphasis to a HDB flat? Let's take a look at a few buildings that use Jonite's sustainable grates as a form of aesthetic, hardscaping element.
Duxton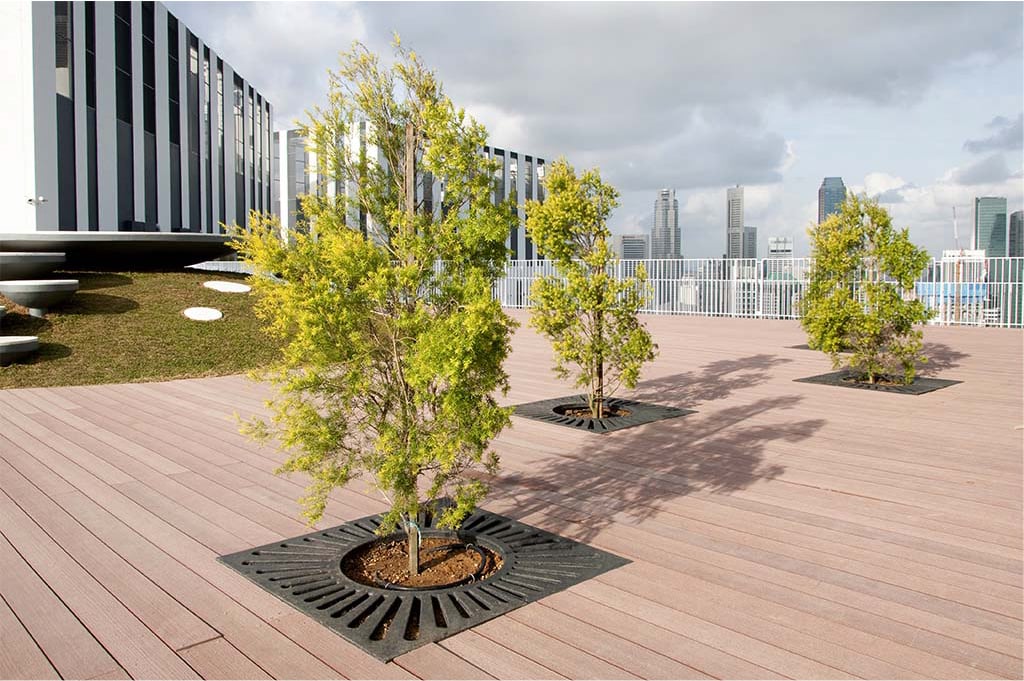 Tree grates that contrast with the flooring to create a sense of enclosure
Colour and material choice play a crucial role, working together harmoniously or in opposition to each other. This HDB has used contrasting elements to create a modern yet straightforward effect that enables the tree decorations to stand out. In addition to the stone grate and wooden flooring, the colour of the grate adds a sense of material contrast, and its colour matches that of the building, creating an ironic harmony between the various elements.
Jurong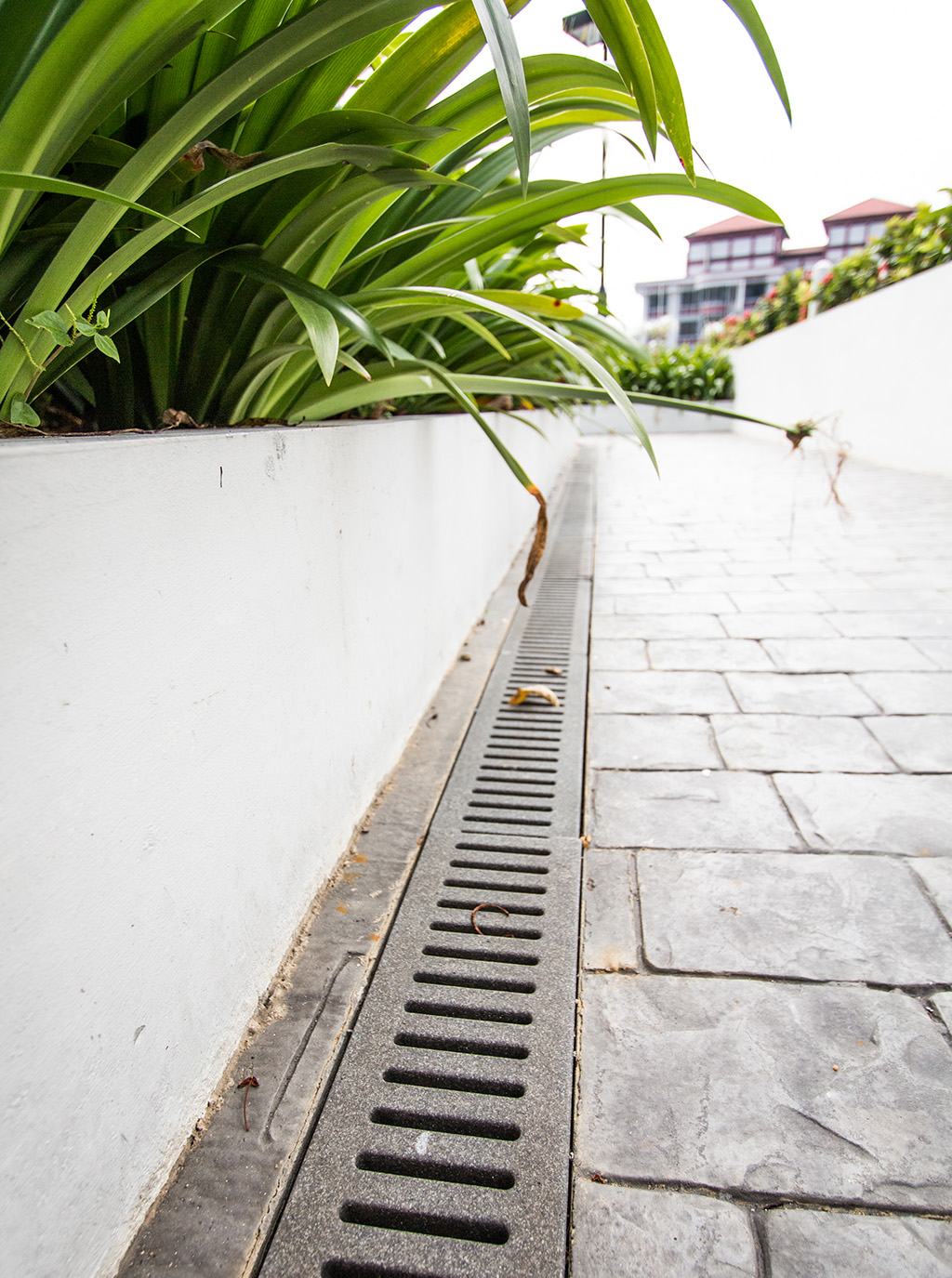 An example of how hardscape and softscape work together to create a landscape
Grates are a hardscape element and thus can work very well with greenery to create simple yet aesthetic landscaping designs. Using green, white, and grey shades to create a clean and modern environment, this HDB is a stellar example. It uses a grey palette, which makes an elegant transition towards the white elements of the building, perfectly encapsulating the floral elements.
Yishun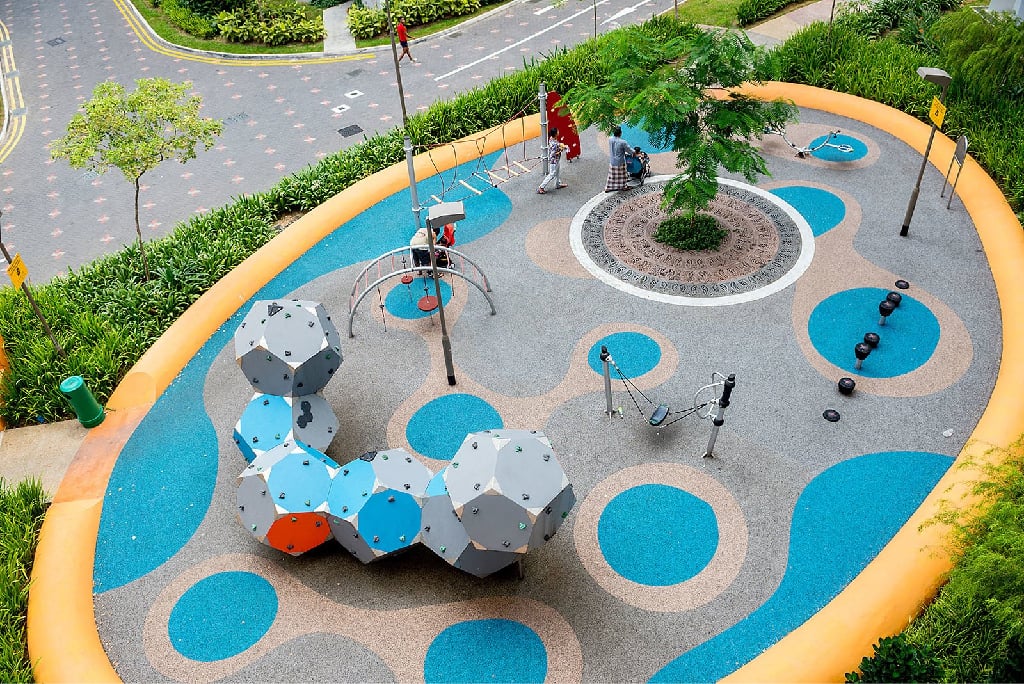 A tree contributing to the atmosphere of the playground | Kompan.com
Generally, tree grates are found in areas with many foot traffic, such as streets. But what about playgrounds? A few playgrounds surround this HDB, each with a tree to breathe life into the area. This HDB, therefore, suffers from high foot traffic from energetic little children. In addition to providing protection against the hyperactive little creatures, the grates also enhance the aesthetics of the play area, both in colour and design.
Boon Keng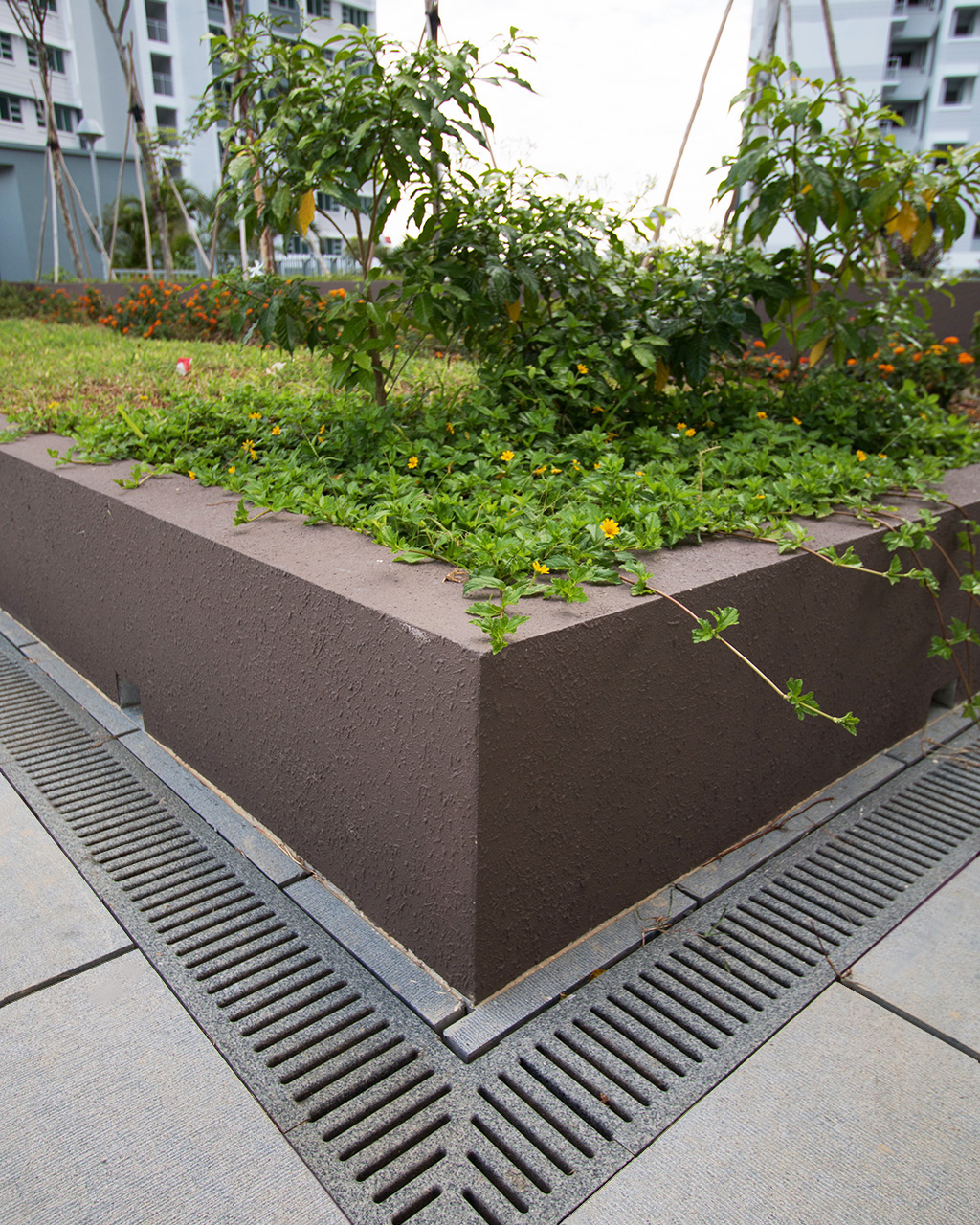 Muted colours make for a modern and quiet palette
When it comes to a residence, some people prefer a plain and quiet environment to come home to. This HDB does a good job at bringing the quiet back home. Using a dull palette for the hardscape elements, contrasting with the bright green plants that decorate it, the HDB has a serene yet modern atmosphere, evoking a sense of tranquility in the air.
Queenstown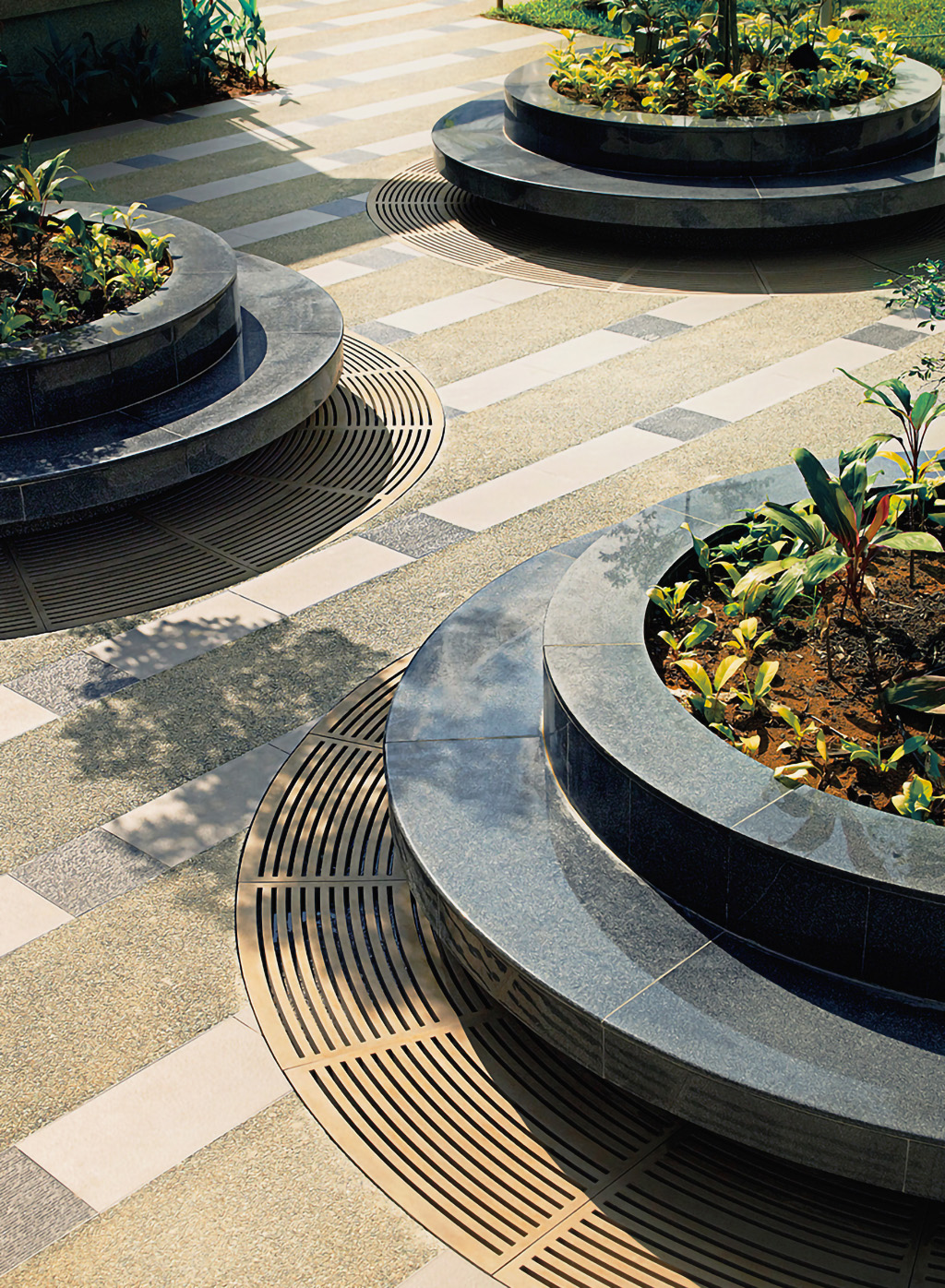 Circular urban elements make for a nice 'pot' for the trees
While tree grates have a functional purpose, they can also serve as decorative elements, and this HDB does that and does it well. Through the simple patterning, the grates compliment the polished stone seats that house the plants and soil, creating a presence for the individual 'giant pots'. Moreover, the grates' colour blends well with the flooring's palette, creating a visual continuity from floor to grate to stone seats.
While grates may seem like a small thing that people often overlook, it is an integral part of a HDB's hardscape and functionality, and even the tiniest of things can have a significant effect on the overall environment. When it comes to trench grates, HDB flats usually use plain steel grates. As for trees, they are typically planted to the side, away from the urban area. But would not stone grates be better suited to enhancing the hardscape and make for a more exciting look?