Few things are more relaxing than an idyllic day at the pool. In recent years, swimming pools have become much more than just simple amenities. They are now an essential part of the landscape as a whole.
For residential and commercial properties, overflow pools are quite trendy for many reasons. Top of the list is the fact that when installed properly, they can be very beautiful to look at. When the surface of the water is level with the adjacent flooring and the landscape around it, it creates an almost edgeless lake effect that is breathtaking to behold. This is the secret behind the allure of overflow pools.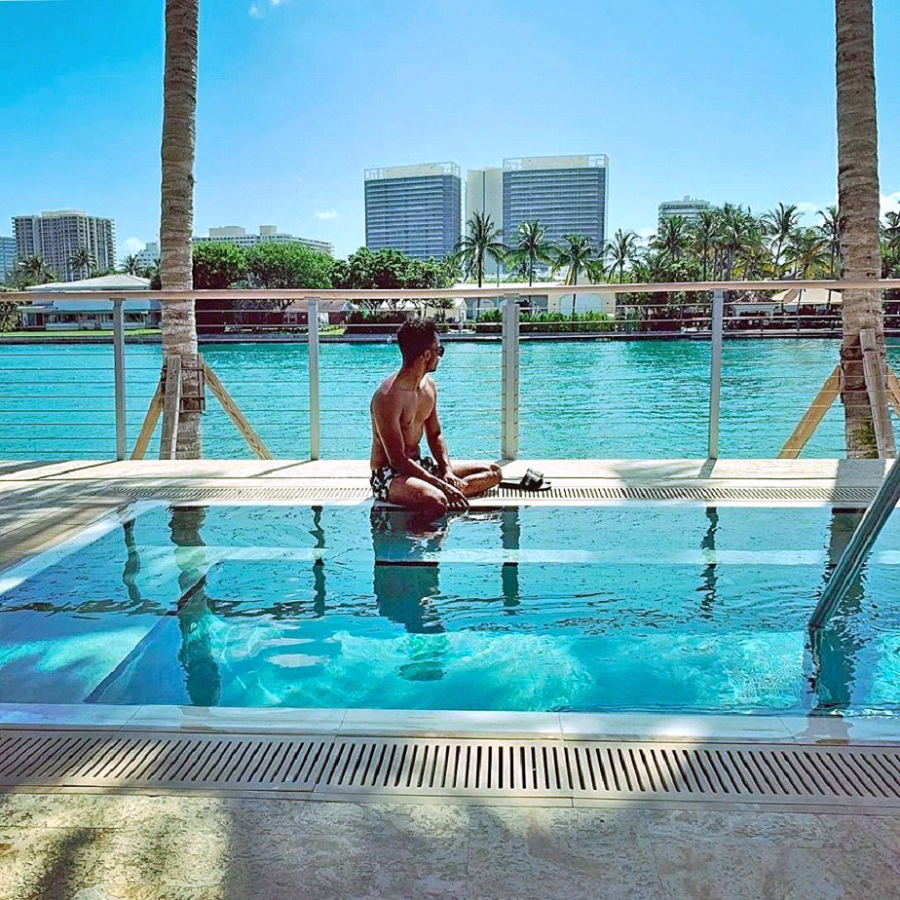 Another reason why these types of pools are so popular is that they are known to give landscape architects a lot of design freedom. However, this is where things get tricky. The design of the pool can make or break the entire landscape design, which means making a few wrong moves could mean the collapse of your whole concept, causing the swimming pool, landscape, and their amenities to have a disconnect.
Therefore, as you plan your pool, you need to have a clear vision and the bigger picture at the back of your mind. Successful integration of the swimming pool into the landscape will mean the difference between having a swimming hole and having a relaxing oasis in your backyard. Here is how to achieve this.
1. Carefully select your pool grating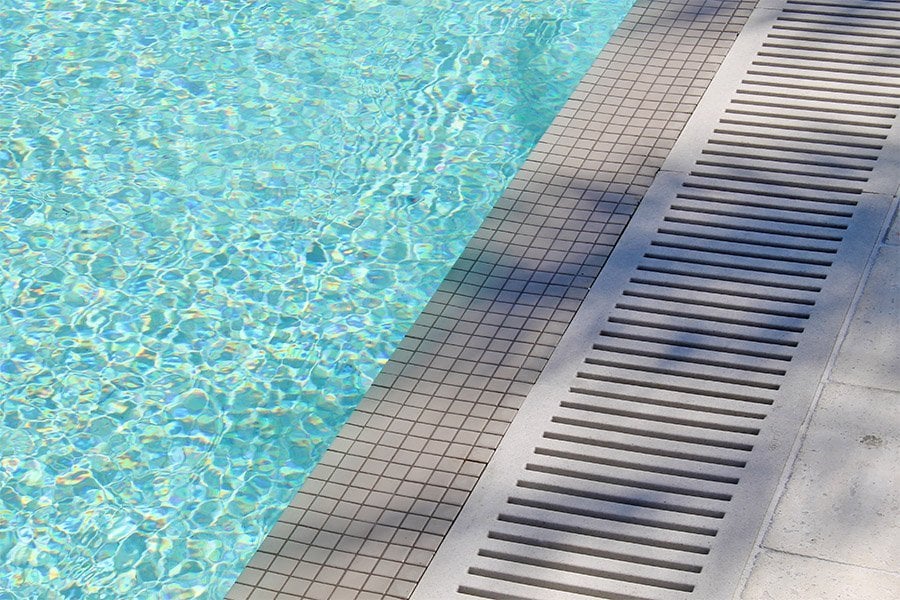 In modern swimming pool construction, a deck level system, which features a high water level combined with an overflow channel, is often used. It is a widely established practice, and for a good reason; it offers a lot of advantages when it comes to ease of access and general hygiene.
However, for this system to be effective, several requirements need to be met, particularly when it comes to pool overflow and the overflow channel. First, it needs to collect all the water that spills over the edge. Second, it needs to provide maximum hygiene and safety. Finally, it must look good and be a pleasant surface for users to walk on.
That's where pool grates come in. When done right, pool drainage grates will check all these boxes. They will also stop the water from splashing on the adjacent floor space since the pool and the flooring is level. As the cherry on top, high-quality ones will also provide stability, durability, and strength.
Choosing the right pool grates will be essential in making your pool integrate seamlessly with your landscape. They are used in several areas within your swimming pool space, including main drain and outlet covers, access ramps, pool bench seats, gutter grating, lifeguard tower platforms, pool partition walls, shower room flooring, access gates, entry grating, deck storage boxes, and access hatches, among other uses.
2. What to look for in your swimming pool grating
The pool grating you choose should be slip-resistant, easy to clean, durable, and able to adapt to your existing channel frame system. It should also lock together firmly and safely to prevent gapping and lifting.
Additionally, it should be safe and non-toxic, not reactive to pool chemicals, and have consistent color, thickness, and density.
Another important factor to keep in mind here is space. Sufficient open area is essential especially if you want your pool grating to effectively prevent splashing on the adjacent flooring.
If you use Jonite swimming pool gratings, you also get lots of other benefits on top of all this. You'll get natural stone beauty that will add high-end elegance to your space, along with unbeatable comfort and safety. Jonite grates are also heat resistant, which makes them comfortable to step on, no matter how hot the day is.
If you are into preserving the environment, Jonite grates will also help you do that. They are constructed with sustainability in mind, using at least 30% recycled material in the products. They are also made with composite reinforcements, which makes them extremely durable and corrosion-resistant.
Finally, and best of all, they can be tailor-made and personalized to suit your unique requirements. With a large number of unique patterns and aesthetics, along with a plethora of size options, this is what you need if you want to integrate your pool into your landscape seamlessly.
3. Carefully select your pool deck drain
Pool deck drains and pool deck drainage channels serve to keep excess water out of the pool deck and the general pool area, providing a safe space for anyone barefooted, especially kids. They also redirect rainwater away from any structure within the pool area, such as the pool house.
They are essential elements to have, especially if your general landscape has any slope to it.
Pool deck drains come in a variety of styles and materials. Before you settle for one, there are a few things that you need to consider;
Weight loads- If you get a thin plastic deck drain, things like patio table legs and lawn chairs will inevitably pole through them, rendering them useless. Go for a drain that can handle such weight loads.

Hot or cold- Some drains tend to get really hot with the sun and extremely cold in cold weather, which can make stepping on them very uncomfortable. Although metal drains are particularly notorious for this, several other materials have the same problem, which is why you should be very careful when selecting your pool deck drain material.

Cleaning considerations- Your drain should be removable for easy access, which makes them very convenient whenever you need to clean them periodically.
Jonite's pool deck drains check all these boxes. With the ability to blend seamlessly into any flooring you may have, they are easy to maintain, aesthetically pleasing to look at, and extremely strong and durable.
Additionally, the drains are engineered to perform their function while remaining structurally sound, resulting in a watertight pool area that will never puddle.
4. Pool drain cover replacement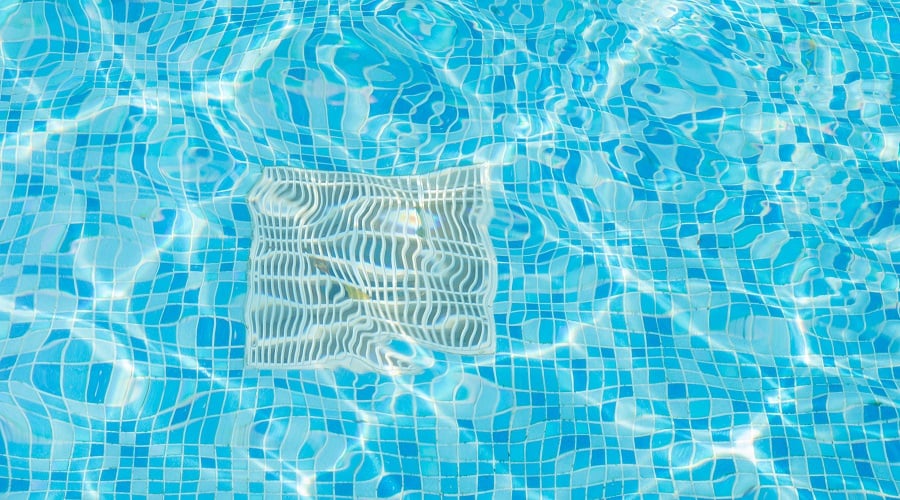 Pool drain covers are other vital elements of the pool. They are also known as anti-entrapment covers, and serve to prevent, hair, fingers, and jewelry from being trapped under the drain. Drain entrapment occurs when a person gets held against the pool drain by the force of the pool's suction, often when part of their bodies, clothing, hair, or jewelry gets caught in the drain. It is extremely dangerous and can often be fatal, especially for small children.
Therefore, you should never compromise on the quality of your swimming pool drain cover. If you intend to do a pool drain cover replacement, it is a good idea to make sure that any drain cover you use meets the minimum requirements set by the ASME National Standard.
Even better, make sure it is a VGB-Compliant Drain Cover, meaning it should meet the VGB Pool & Spa Safety Act requirements of 2007, which are the latest and most updated guidelines for drain cover manufacturers.
5. Bonus tip: Remember to balance aesthetics with functionality
While the landscape's aesthetic properties are essential, you also have to think about how the site functions. There are various ways to do this. For example, you can establish strong sightlines to specific focal points around the pool, and set up different "destinations" that will give the landscape some structure.
The pool also needs to settle into the landscape. This means aligning traffic patterns with existing focal points. Anyone who walks into the swimming pool area should immediately know exactly where to go. Have focal points that are beyond the pool area, so that views extend over it, allowing the pool to merge into the landscape.
Finally, here are a few questions that will help you form a clearer mental picture of how your pool should integrate into your landscape:
What areas outside do you regularly visit?

How would guests get to the pool area for an event, for example, a barbecue?

Where do you see yourself enjoying a barbecue in the backyard?

Where do you want the children's play area to be?

Would you like to see the pool from the house?

Are there any specific pool shapes that you like?

Where should the pool's filtration systems and heating go?

Will you require extra storage for pool chemicals and tools?
Answering these questions will give you a general idea of where your pool needs to go, how to position it on your landscape, and how it should look.