The different architectural styles from all over the world and varying periods have heavily influenced Singapore's architecture. These styles range from all the way back during the Early Renaissance in Ancient Greece to the introduction of Modernism to the majority of the world and the current era of growing Contemporary Architecture. With most of these buildings located within the Downtown Core of Singapore, it is easy to catch sight of these different architectural styles stand alongside each other.
Gothic
Gothic architecture is a European architectural type that originated in France in the mid-12th century and dominated European architecture until the 16th century. All Gothic buildings have common significant characteristics; tall, stained glass windows, thin, pointed arc roofs, and ribbed vaults. This style is most common in Christian places of worships like churches, chapels, and cathedrals.
CHIJMES, once a Catholic convent in the 19th century, has now been turned into a commercial centre for dining and shopping purposes while still preserving its neo-gothic architectural styles. Just a walk down the street is the Saint Andrew's Cathedral, which also features pointed arcs and stained windows.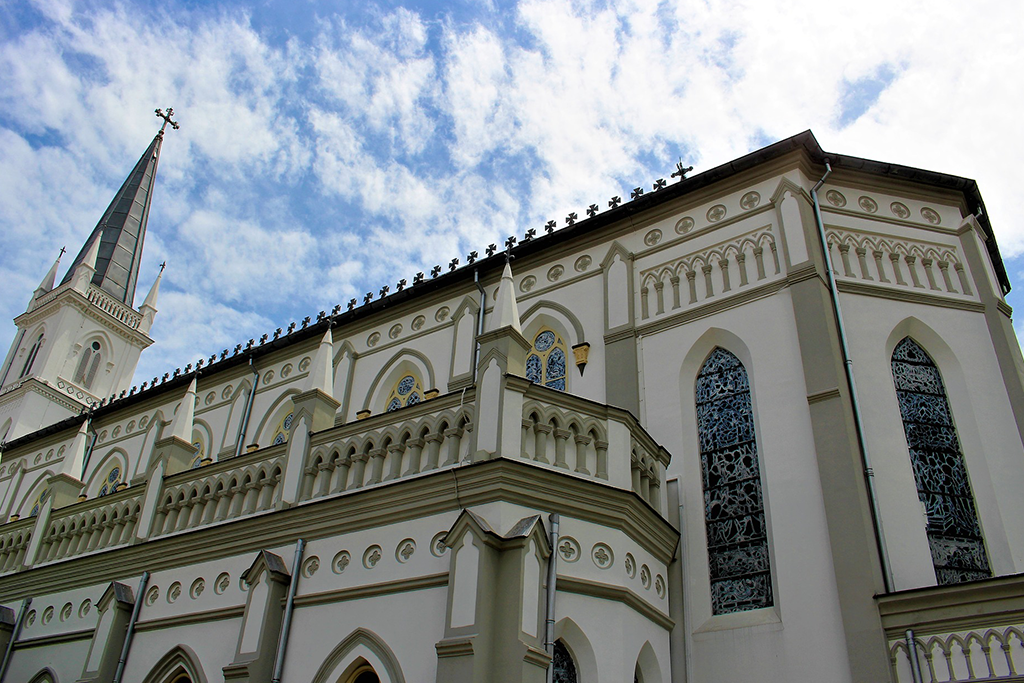 CHIJMES, 30 Victoria Street
Neoclassical
Moving onto the Renaissance period in the 17th century came the Neoclassical architectural style, using elements from Ancient Greek and Roman Architecture. This style mainly features large domes or flat roofs (depending on the style), magnificent pillars and columns, and Doric Greek or Roman detailing. There are three primary forms of neoclassical architecture, Temple-Style, Palladian, and Classical Block.
The National Museum Building of Singapore can be categorised under Palladian. When you first enter the museum, you will be guided to a rotunda covered by Singapore's oldest surviving dome. The old Supreme Court building, now refurbished into the National Gallery of Singapore, also features domed and flat roofs.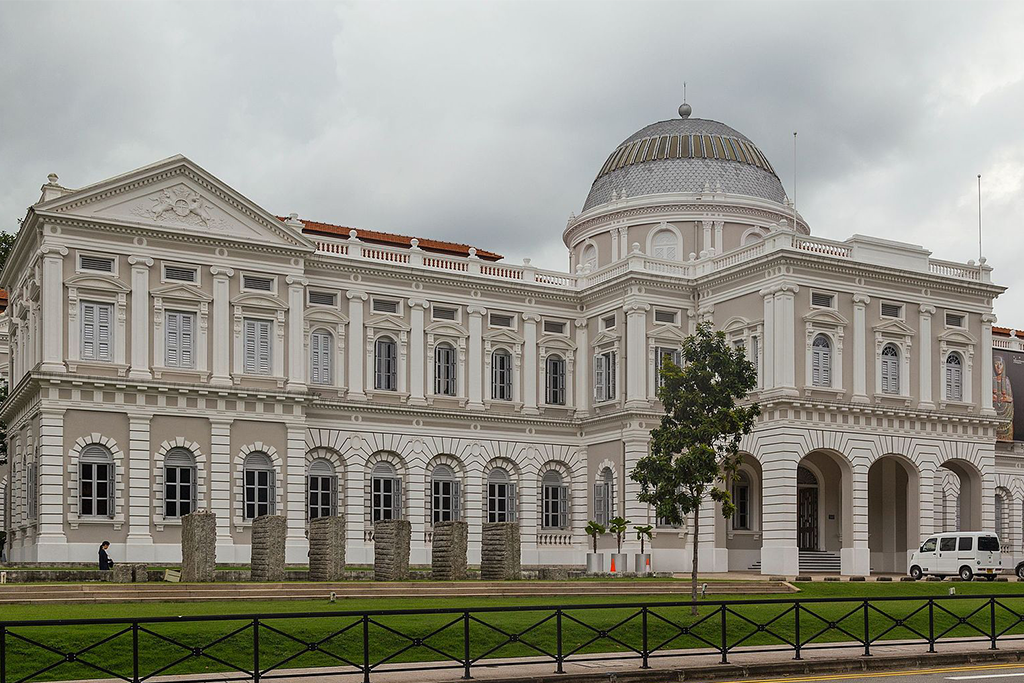 National Museum of Singapore, 93 Stamford Rd
Photo by Marcin Konsek / ©www.commons.wikimedia.org
Art Deco
This particular style features strikingly contrasting colours, geometric detailing, parapets, and spires. Art Deco mainly focuses on symmetry and discovering new ways to present traditional shapes.
DC Comic fans may recognise Parkview Square as Singapore's very own "Gotham Tower" due to its considerably remarkable resemblance to the fictional Gotham City, which is heavily influenced by the Art Deco movement. The Asia Insurance Company, built in the 1950s, now refurbished into a 5-star hotel, also shows a gradually narrowed down conical or pyramidal structure on the top of the building, a popular feature in Art Deco.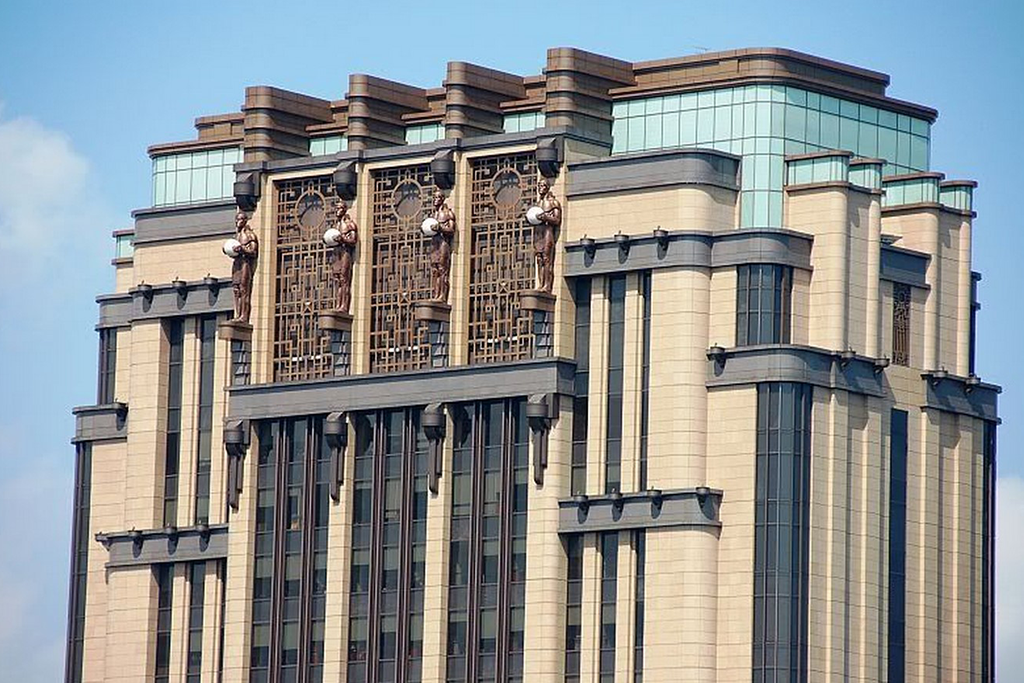 Parkview Square, 600 North Bridge Road
Brutalism (Modernism)
The most well-known and predominant architectural style in Singapore and the 20th century, leading into the 21st, is Modernism. There are many sub-categories of modern architecture, but the most apparent trait of them is eliminating ornaments and miscellaneous embellishments.
One sub-category, Brutalism, is a style of architecture that lasted from the 1950s to the 1970s, and it was distinguished by simple, block-like, hulking concrete structures. This form of architecture is more commonly found in commercial and public buildings. Although Brutalism can be referred to as the arguably brutal nature of the buildings' appearance, the term Brutalism actually comes from a play on the French phrase, "béton brut", which directly translates to raw concrete.
Singapore's very own iconic brutalist design can be seen in the OCBC Centre, heavily dubbed as "the calculator". Another example is the Singapore Land Tower, which is located only a few streets down the road.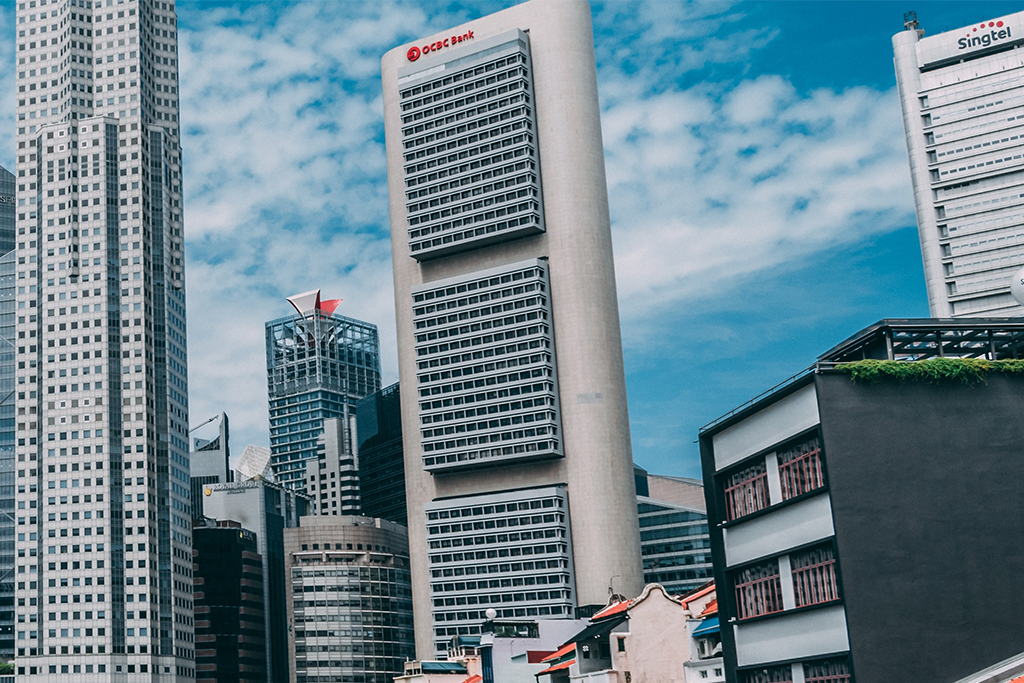 OCBC Centre, 65 #01-100 Chulia Street
Futuristic (Post-Modernism)
As we progress into the 4th industrial revolution, where technology is constantly upgrading for the better, we move into the futuristic architecture style. Futuristic styles feature dynamic, oblique, and elliptic lines. The notable use of glass as a construction material in the façade gives off the organic form of structure and maximises views for the user. This movement was a lift-off from Modernism's dull and harsh perception of simplicity by innovating and incorporating nature into buildings while still keeping the minimalistic image.
The Marina Bay Sands Hotel is made up of three 55-storey towers topped with a 1.2-hectare sky park. Another futuristic-looking building is the Sandcrawler, modelled after the enormous mobile fortress featured in the Star Wars films. Its exterior is widely made up of glass, giving viewers, both in and out of the building, a sneak peek of the other side.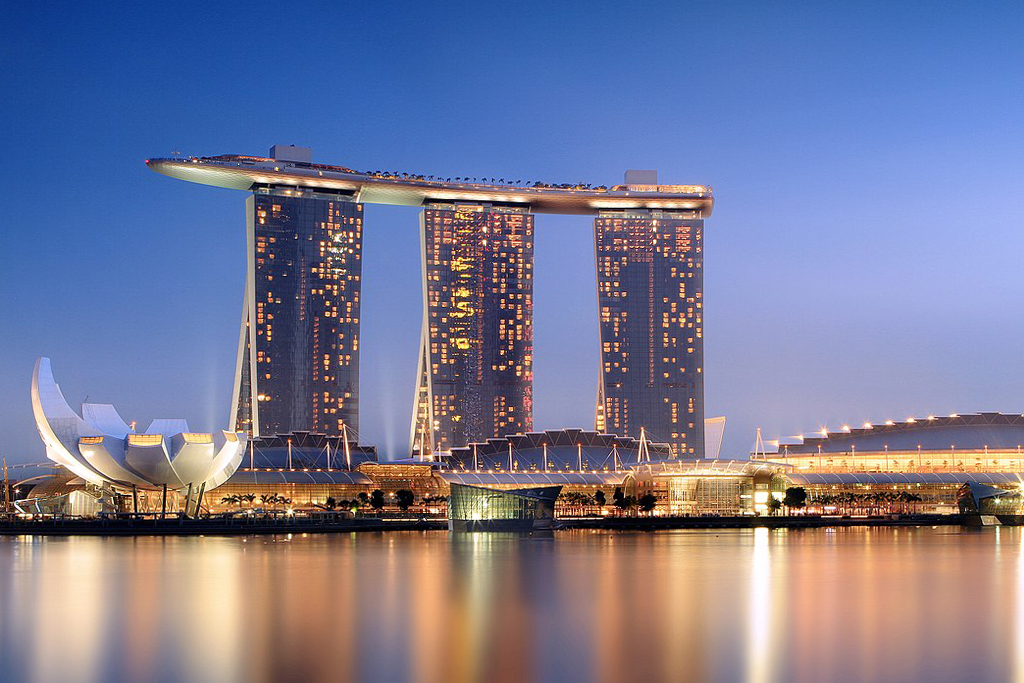 Marina Bay Sands, 10 Bayfront Avenue
©www.commons.wikimedia.org
Biophilic
Biophilic design is a reach to architecture that seeks to connect building occupants more closely to nature. Biophilic designed buildings incorporate natural lighting and ventilation, natural landscape features and other elements for creating a more green, productive and healthier built environment for people.
Established on 17 April 2019, Jewel Changi Airport is a nature-themed entertainment and retail complex linked to three of Changi Airport's passenger terminals. It has an iconic indoor waterfall located at the heart of the mall, an indoor garden spanning five floors, and a Canopy Park situated at the topmost level. Marina One Residences presents a biodiversity garden at the core of its four towers, offering multi-level terraces and a 13-metre waterfall.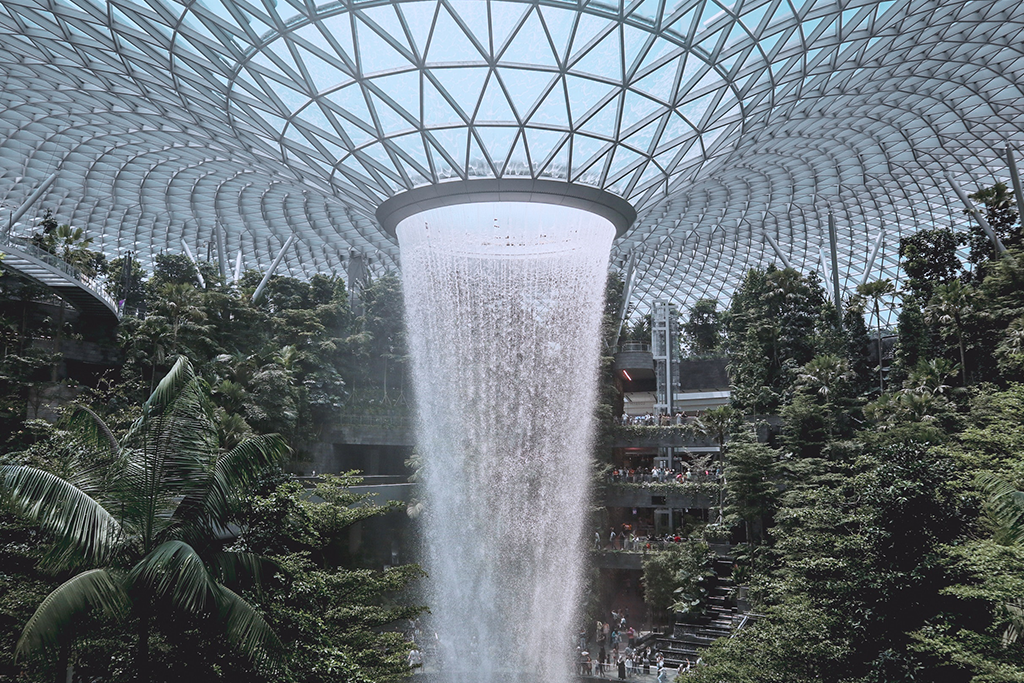 Jewel Changi Airport, 78 Airport Boulevard
Conclusion
Although Singapore has been gaining architectural recognition worldwide on recent buildings like Jewel Changi Airport, or Marina Bay Sands, buildings dated back to the 20th century should not be dismissed for their "outdated" styles. The country presents a blend throughout the ages to create a harmonious landscape that showcases the varying architectural style.