The beauty of nature never ceases to amaze human beings. Mountains, rivers, beaches and flowers are some of the most beautiful views some people will encounter. However, humankind and civilization have also created beautiful sights, including buildings, bridges and churches. All of which reflect the style and inspiration of the architect behind them.
Industrial architecture is a field that has also evolved to combine functionality and design and reveal impressive construction worthy of admiration and recognition. Industrial buildings worldwide are focusing on their primary goal of housing a production line and garnering attention because of their design.
Exceptional industrial architects have created impressive works of art. Banks, train stations, factories and retail stores are now valuable for enriching the architectural landscape as well as for their financial contribution concerning commercialized products.
Reviewing the most recognized beacons of industrial architecture is a study of daring the imagination to run wild while allowing productivity, culture and the environment to influence the final designs. Even though many buildings and structures are not particularly unique, others challenge the human eye to envision something grander that will leave a footprint in humanity's architectural history.
What Is Industrial Architecture?
Industrial architecture refers to designs used to construct buildings in the industrial sector, including the following:
Factories

Refineries

Distilleries

Warehouses

Power plants

Distribution centers

Manufacturing facilities
Industrial buildings are designed for efficiency and safety when processing materials into products. This type of architecture generally prioritizes worker safety and function while focusing less on aesthetics. However, more designers are turning old industrial buildings into apartments, offices, art galleries and showrooms to breathe new life into these structures.
Elements of Industrial Architecture
The elements of industrial design vary depending on the purpose of the building. However, there are some common elements found throughout industrial architecture. Some of the key characteristics of industrial architecture include the following:
Open spaces: Industrial spaces usually have high ceilings and open floor plans.
Minimalism: Industrial architecture focuses on functionality over ornamental flourishes, making for a more minimalist design.
Exposed materials and utilities: A common feature of industrial architecture is exposed materials, such as steel beams, exposed bricks and concrete floors. You'll also find exposed plumbing, ductwork or electrical wiring in industrial buildings.
Natural light: Industrial architecture uses natural light by installing floor-to-ceiling or metal-grid windows and skylights.
The History of Industrial Architecture
Industrial buildings rarely receive a second glance and are purely constructed for purpose over aesthetic appeal, whether to store and protect materials or shelter livestock. Generally, industrial buildings are considered lifeless and are located in areas that disregard design elements, nature or other surroundings. This very brashness makes industrial buildings so uninteresting yet so utterly fascinating at the same time. Has industrial architecture always been so boldly bland, and are industrial buildings doomed to remain this way forever?
Technological advances have sought to modify the human experience during our existence drastically. The most recent industrial revolution, which occurred in the late 19th and early 20th centuries, has undoubtedly transformed the look and feel of architecture alongside every other aspect of the Western lifestyle. Specific developments in technology and organization, like steam- and coal-powered machines and precise factory lines, made the urban industry dramatically more profitable for industry leaders and laborers alike. Large industry-devoted buildings became necessary.
Before the 1800s, ornate, permanent architecture was primarily devoted to religious, military and public use. Imagine grand cathedrals, massive fortresses and austere city halls. However, with the rise of large-scale industrial efforts, architects faced a new challenge. Thus, the Industrial Revolution brought about an increase in impressive industrial architecture.
Industrial buildings of the late 18th and 19th centuries fulfilled the fundamental need for manufactured housing. These buildings were rectangular, built of brick or stone, with wooden roofs and bare plaster interior walls reminiscent of the Derby Silk Mill in Derbyshire, England, built in 1974. Decorative elements were rarely included, and even then, they were simple and classic.
The 19th century ushered in new construction materials, like metal and concrete. Architects began experimenting with layout and exterior design that improved the look and feel of the buildings and welcomed more natural light due to the larger windows. This, in turn, increased production significantly. Some architects were inspired to attempt artistic, industrial buildings, like the Menier Chocolate Works in Noisiel, France, which boasts a bare metal frame for a decorative façade.
Industrial buildings grew to become more complex and intriguing until the 20th century, when industrial architecture came to a halt.
Modern Industrial Design
As artistry infused the architecture industry, architects began pushing the boundaries of building design. Modernism in the early 20th century was borne out of the importance of industrial architecture. Frank Lloyd Wright and other prominent modernists began employing the motto "form follows function" by integrating the necessities of industrial buildings with simple decorations inherent in the modern style.
Modern design would lead industrial design for decades, morphing into other architectural styles, including International Style and Brutalism.
Numerous architecture historians argue that industrial buildings of the early and middle 20th century strongly influenced the direction of overall architectural trends for the modern era. They are not wrong. Industrial buildings became the architectural highlights of urban centers and continued to alter the look of neighboring residential streets.
Architects were often contracted to design the factory itself and the dwellings for the factory workers. This meant that entire city blocks were developed into cohesive housing development, replete with recreational spaces, public buildings and more. Thus, industrial architecture dominated architecture as a whole for much of the 1900s.
The Future of Industrial Structures
While many notable industrial buildings of the 20th century still stand, many of them no longer serve as functional spaces for the industry. The demand for technical industrial architecture became less lucrative, prompting architects to draw inspiration from other phenomena and aspects of culture. As manufacturing becomes increasingly mechanized, companies have done away with costly aesthetics like windows in favor of cheap, quick structures that protect machines from the natural elements.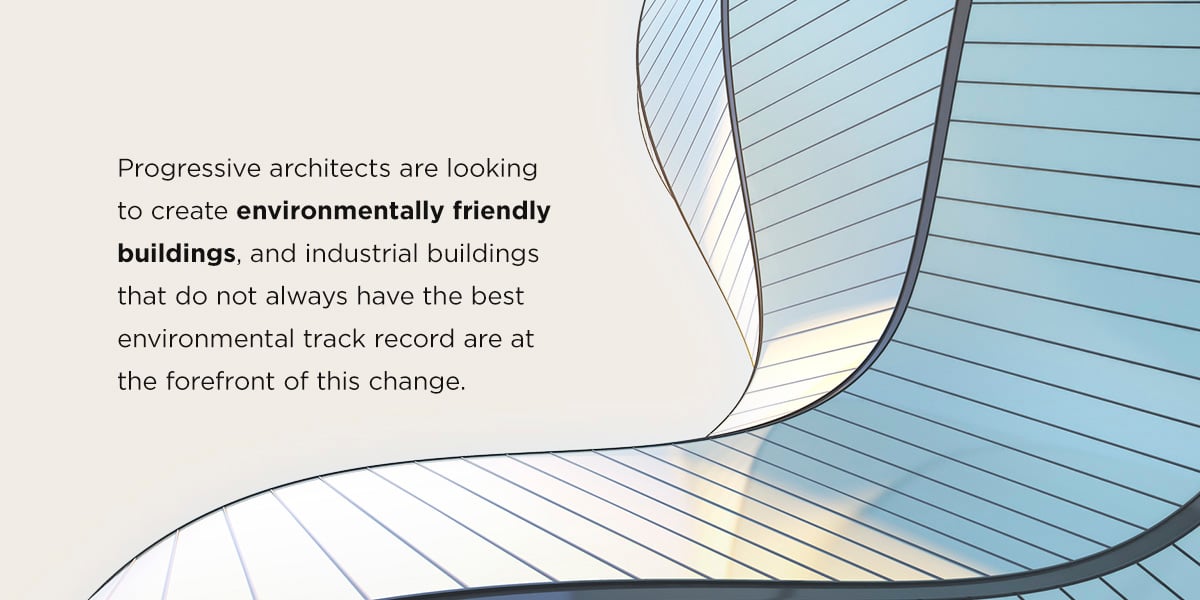 Another shift in industrial building design is on the horizon as our culture becomes more conscious of architecture's impact on the natural environment. Progressive architects are looking to create environmentally friendly buildings, and industrial buildings that do not always have the best environmental track record are at the forefront of this change. Sustainable structure options, like fabric buildings, are springing up throughout the industrial sector, and some architects are also challenging how we view industrial architecture today.

Changes to industrial structures aren't stopping at sustainability. As technology and society evolve, more trends are emerging regarding the future of industrial architecture, including:

Adaptable designs: Many industrial structures are being designed as flexible spaces, which allows the area to be customized to a company's existing and future needs. For example, a company may use an industrial space for offices and later change the layout to suit warehousing needs. New industrial structures are also being created with flexibility in mind.
Smart technology: As new architecture focuses on modern technology and equipment, more of these technologies will be implemented in older industrial structures adapted for new purposes. Smart technology is making it easier to design spaces faster, which makes it easier to transform an outdated industrial structure into a new space for various uses, including residential, commercial and modern industrial entities.
Repurposing: As companies have started using technology and off-shore production, many industrial buildings have become abandoned and obsolete. Rather than letting these structures become a blight to a community, many entities are repurposing these buildings for other uses, such as apartments, open office structures, event spaces and co-working spaces.
Modern appeal: Many industrial spaces are being transformed to make them more appealing to modern society. Stylized industrial design is becoming more popular among designers and the public, making industrial architecture an excellent place for businesses of all types to make their homes. Restaurants, cafes, hotels and lofts have all been influenced by industrial architecture, and repurposing old structures can help businesses appeal to the growing audience interested in industrial design. With a few stylized inclusions, old industrial buildings can transform into something new and refreshing.
What Is Industrial Housing?
Industrial architecture describes a minimalist style of surface decoration, industrial materials, clean lines, flat roofs, jutting edges and polished surfaces. This particular style has increased in popularity over the last several decades. It is widely embraced by those who live in busy industrial centers and away from suburban communities. Many individuals are attracted to the style's use of greener materials and modern designs. Because of these reasons and many more, industrial architecture is highly fashionable and expected to grow even more significantly.
Industrial Design for Communities
Industrial space can quickly be transformed into cost-effective residential housing. Leaving exposed ventilation, pipes, bricks and concrete is less costly than covering the features with drywall. The practical and minimal look is attractive in its own right and is especially trendy among the younger generation.
With a dwindling manufacturing industry, cities and urban areas seek new development opportunities. Many creative architects have managed to reinvent and preserve existing industrial spaces via existing industrial infrastructures. Transforming an area's industrial buildings and old spaces into new housing, businesses and other vibrant spaces can breathe life into a decaying community. Urban revitalization is becoming more and more prevalent in cities throughout the world.
Here are some innovative features of industrial design that you may want to incorporate into your living space.
Open spaces:

Open space is increasingly popular within private residential homes. Industrial space is highly sought after for

its

open interiors, high ceilings

and access to natural light. Skylights and large windows shower the interior of your home with abundant light as the high ceilings and spacious rooms further perpetuate the style's expansive nature. Often, industrial interiors have fewer walls. The large, open rooms allow more flexibility for you to make creative yet practical use of the space.
Dividers: Dividers within large industrial spaces can be used to split the space into smaller areas. Individual spaces can accommodate multiple functions. If you are working with a

short time frame

and

a

tight budget, this is a simple solution to a costly remodel.

Dividers or movable walls let

you partition your home easily

to meet

your growing and changing needs.
Garage or rolling doors: Garage doors used as large industrial doors can be incorporated into an industrial design efficiently. Imagine large automatic doors opening up to the interior of your home and extending your living space into an outer area. This provides an illusion of a more extensive living space than what you have. Both indoor and outdoor living areas are favorite features of dwellings with industrial, minimal, and modern designs.
Green and sustainable housing: Green Housing is one of

industrial architecture's

most apparent benefits due to its

reduced

waste and easy conversion to green housing. This method is perfect for you if you happen to be an environmentally conscious individual.

Many industrial

spaces are conveniently located within urban centers

near

public transportation or bike access. You no longer have to drive or take a taxi everywhere

,

so you can be sure to reduce your carbon footprint. At the same time, many of the building materials used in the development are recycled from the former space, making this one of the most sustainable architectural styles.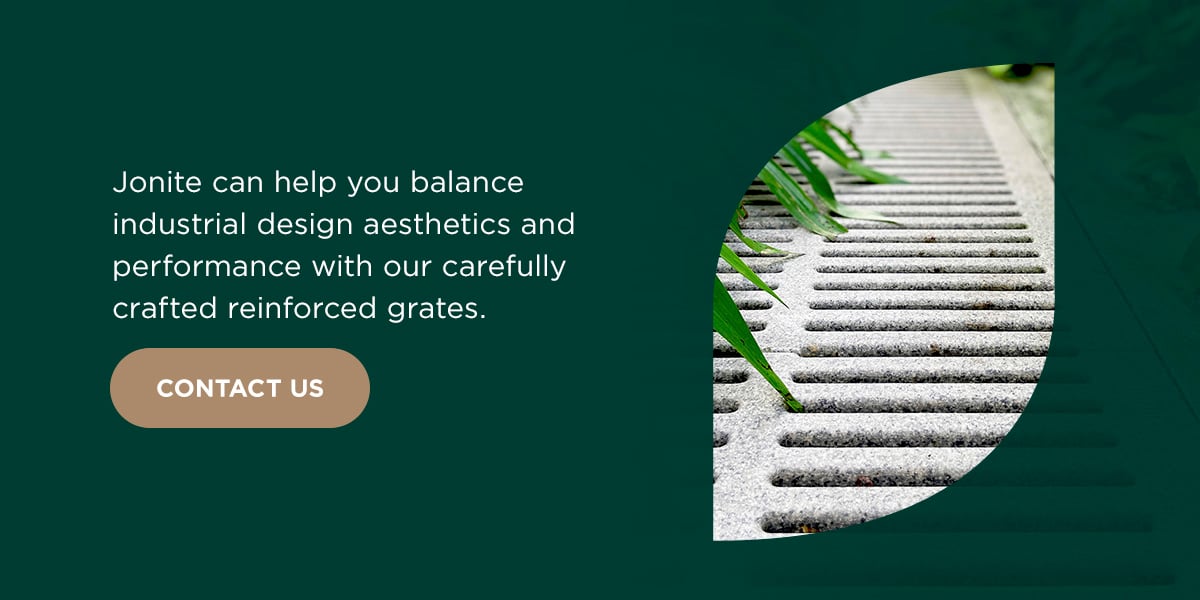 Beyond the City
Industrial architecture is one of the most notable residential styles in cities today. The form has become so popular that it has seeped into facets of interior design and residential suburban architecture.
If you are keen on living in a space with a distinctive industrial style yet but do not fancy city life, then you may very well be able to find your ideal industrial-style loft in a less urban space. Industrial-style spaces exist within many buildings and homes in smaller towns and suburbs. These spaces are often converted from old factories and manufacturing plants.
However, the historic charm can add to the beauty of the home's interior. That being said, new industrial-style spaces in smaller cities, towns and suburbs should take care that the area remains anchored in the character of the region.
Jonite can help you balance industrial design aesthetics and performance with our carefully crafted reinforced grates. We can help you create a bold and beautiful look that brings out the best of industrial design. Contact us today to learn how we can help you incorporate beauty into your stone projects, or browse our projects for inspiration.