Singapore, a city just 1 degree north of the equator, is one of the hottest and most humid countries. Singapore has been fighting against the rising temperatures and carbon emissions produced by buildings and electric power generation for many years. Hence, keeping the city cool while reducing carbon emissions was a great challenge. Throughout the years, numerous sustainable solutions and plans have been implemented to make a change to the environment. Here are some of the ways Singapore incorporate sustainability in architecture, to improve the environment.
District Cooling
A city heavily reliant on traditional cooling units, buildings in Singapore make up over 20 per cent of carbon emissions. Hence, To keep Singapore's Marina Bay financial district, offices, shops, hotels and restaurants cool, the world's largest underground district cooling system was built to achieve sustainable cooling.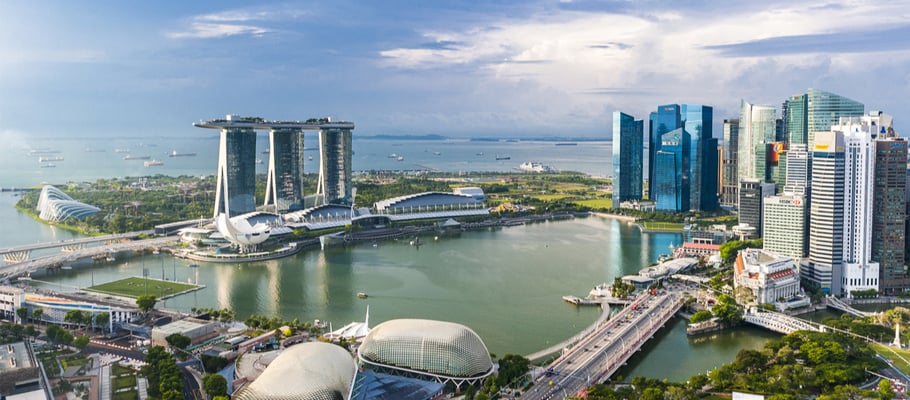 District cooling is a great method to reduce carbon emission in city areas
@mhiaa
The largest chiller unit has a cooling capacity equivalent to approximately 3,600 residential air conditioning units. It pumps water into the buildings to absorb heat and flows back to cool before pumping it again into the buildings. The district cooling system does not only cool buildings, but it is also energy and cost-effective. Reducing the cost of chilling buildings individually, and since no individual chillers or cooling towers are required, capital costs are lower too.
Therefore, to cool down hot climates and reduce carbon emissions, district cooling is one of the more sustainable ways to do it.
Biophilic Buildings
Biophilic designs started as a 'garden city' vision of the late founding prime minister Lee Kuan Yew. This was to promote creativity, wellness, and sustainability and connect us with nature.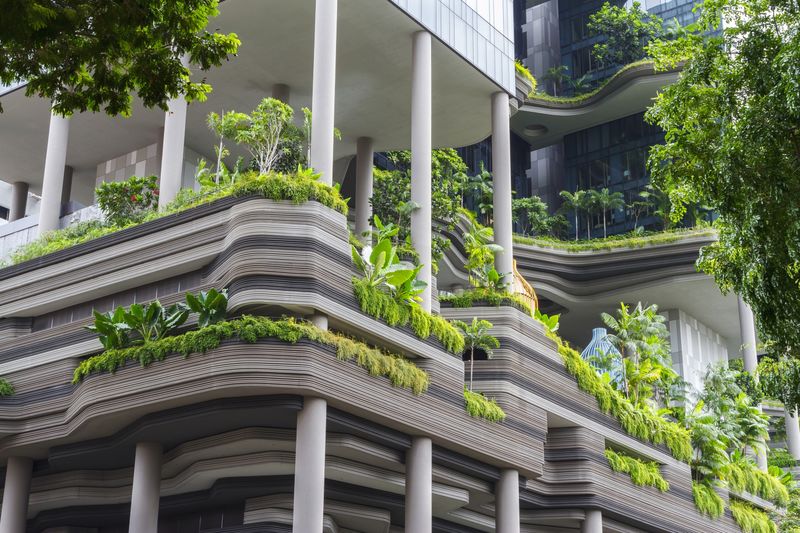 Biophilic design in buildings creates many benefits to people and the environment
©Bloomberg
For fifty years, the desire to green the island quickly to provide shade and access to nature for all has evolved Singapore into a "city in a garden". Now pervasive plant life and biodiversity are inherent parts of the built environment.
It gave its people better air quality, temperature regulation, and natural lighting. It also reduced utility expenses, the urban island effect, and the overall carbon footprint of Singapore. Hence, having green buildings became an essential part of the country's climate change mitigation strategy.
Hospitals, residential units, educational institutions, shopping centres, universities, and hotels have been built with biophilic design throughout the years. As of December last year, Singapore has greened more than 40 per cent of its buildings and is on its way to meeting the target of 80 per cent by 2030 from the BCA's Green Mark scheme launched in 2005.
Solar Panel
By 2050, Singapore aspires to halve the emission from its peak, with a longer-term view to achieving net-zero emissions as soon as possible. To accomplish this, Singapore must transition to cleaner energy quickly.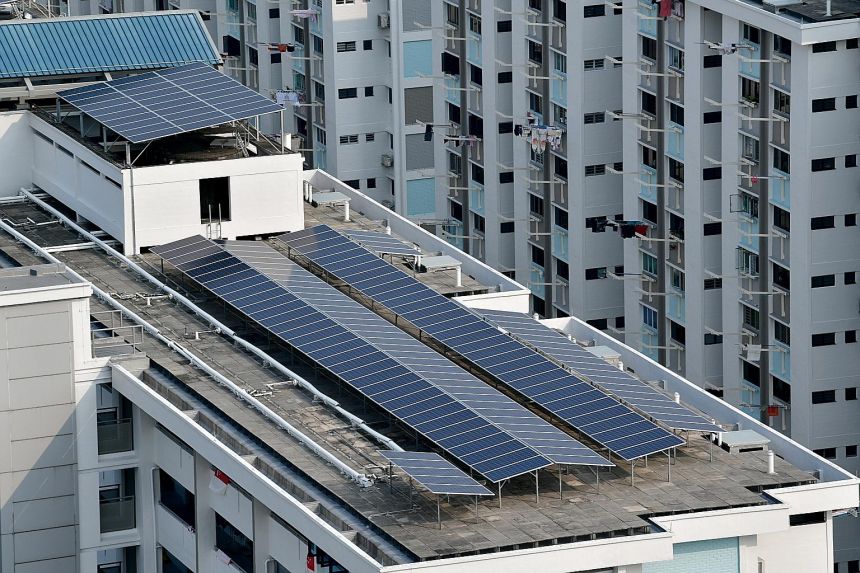 The use of solar panels are gradually increasing while overcoming with space constrains
©Straitstimes
Currently, 95 per cent of the electricity is generated from imported natural gas. It Is one of the cleanest fossil fuels available and produces half the carbon emission coal would. However, it is not quick enough to reach net-zero by 2050.
Therefore, solar energy is one of the best ways to get clean energy, reducing the reliance on natural gas imports. The use of solar technology also makes it more efficient and cheaper.
One of the methods to implement solar technology in a highly built-up, land-scarce urban landscape was to implement it on rooftops. And since 2014, Solar panels have gradually been added to numerous HDB blocks rooftops. Hence, the SolarNova programme was rolled out by the government, with the aim to cover schools, community centres and other public sector buildings, to rise to 540MWp by 2030.
Private homes using solar panels are also increasing. And City Developments Limited (CDL) has included solar panels in its condominium developments for several years now.
To further implement it, engineers found a way to generate electricity using building facades, vertically-mount solar PV Panels that form the building façade cladding. In the future, individual solar PV panels can mimic the appearance of conventional building materials like glass, brick, or concrete, and generate power simultaneously.
Incorporating this sustainable design into architectures will serve as an essential enabler of zero-energy buildings, super-low energy buildings and positive-energy buildings.
Sustainable Construction Materials
Construction materials are often overlooked when it comes to sustainability. However, it takes up the other 11 per cent of embodied carbon. It mainly comes from construction and the creation of steel, concrete, glass and other building materials.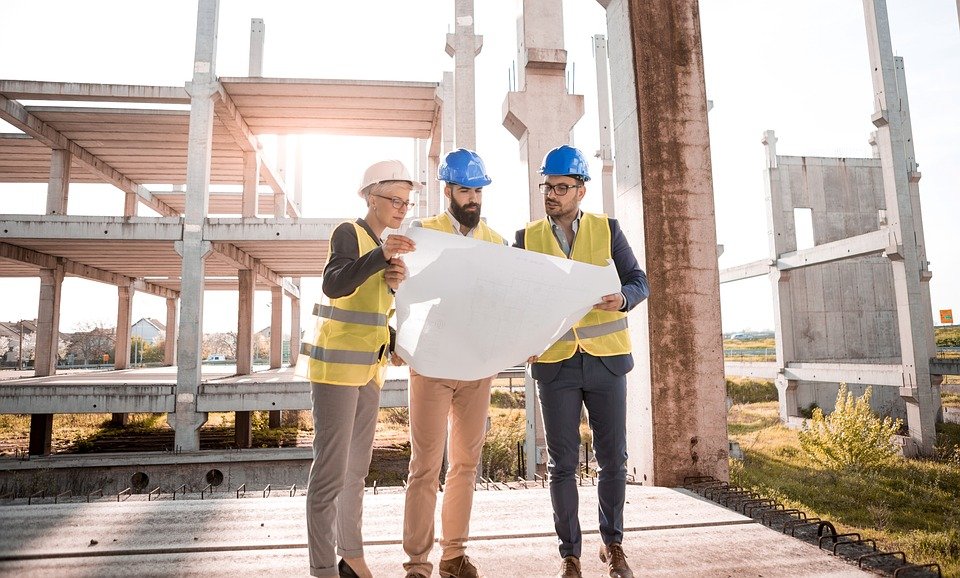 With efforts to reduce carbon emission, sustainable construction materials are now a growing trend
Usually, embodied carbon takes up 30 per cent of a building's lifetime emission. However, due to Singapore's urban renewal and condominium developments' en bloc cycles, emissions can increase to 40 per cent of lifetime emissions.
Prefabricated timber frames are used to make buildings greener as they are lightweight and quick to install, increasing construction productivity. However, this was not enough to gain more recognition to go low-carbon. Hence, SGBD - Singapore Built Environment Embodied Carbon Pledge to raise awareness that the process of building in greening buildings also matters.
To reduce embodied carbon, a lot more has to be done. Dozens of technologies have been employed to reduce the carbon footprint and running cost of a structure. Some examples are using cement and materials that generate less CO2 during production, vegetation and geometry that deflect the sun's rays.
Jonite is another perfect example that balances aesthetics and sustainability into its reinforced stone grates. It is the only grates manufacturer to have four ticks under SGBC (Singapore Green Building Council). Jonite constantly innovates its products to reduce its carbon footprint by up to 80%. It is also made up of 95% natural aggregates and 5% hybrid polymers. Therefore, Jonite reinforced stone grates are the one of the best choices of sustainable construction materials when building green buildings.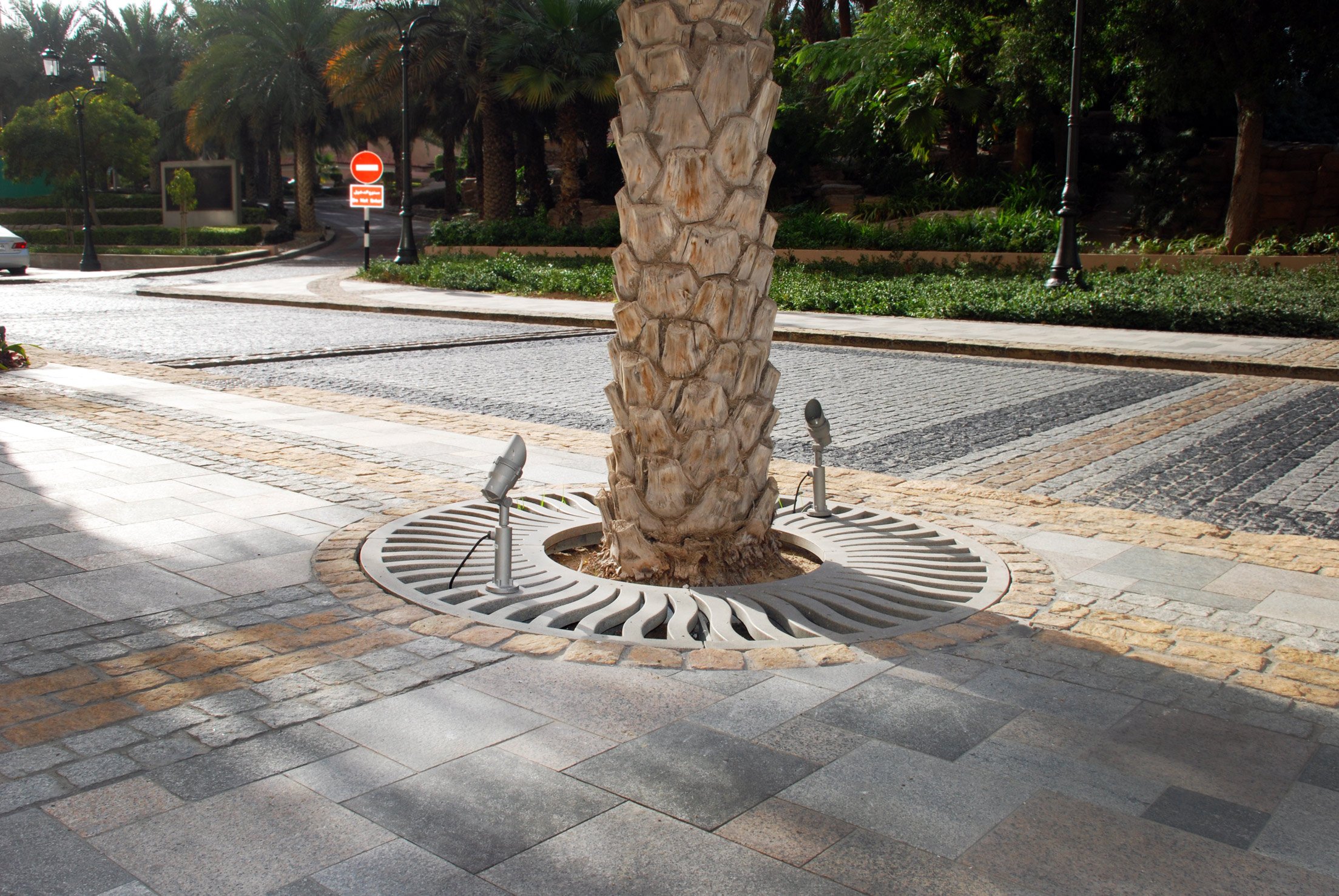 Jonite's tree grates enhancing the aesthetics of the surrounding
To fight against climate change and carbon emission, Singapore has contributed a lot by implementing many solutions and plans to architecture throughout the years. With these efforts, the awareness of sustainable building will increase and grow in popularity.